Kington St Michael Village Shop & Post Point
WELCOME TO KINGTON ST MICHAEL COMMUNITY SHOP
Owned by the village and run by a dedicated and friendly team of volunteers, this award winning Community Shop was established in May 2007. Find us on facebook.
OUR LOCAL SUPPLIERS
~ BACON, WILTSHIRE HAM & CHEESE
Bartlett & Sons Family Butcher, Bath

~ HOME MADE MEAT PIES
Artingstall Butchers, Marshfield
Monument Farm, Bremhill
~ LOCAL MILK
Pensworth Dairy, Salisbury
~ FRESH BREAD, FILLED ROLLS & SANDWICHES
The Old Bakehouse, Malmesbury
~ FREE RANGE EGGS
Kington Langley

~ KINGTON ST MICHAEL JAM, CHUTNEY & HONEY
Kington St Michael

~ SELECTION OF LOCAL BEERS & REAL ALES
Box Steam Brewery, Holt

~ HOME MADE FUDGE, BIRTHDAY CAKES, JELLIES & FRUIT CHEESES
Mrs McCarron's Comestibles, Sevington

~ KINGTON ST MICHAEL HONEY
Kington St Michael
~ HEDGEROW HONEY
Calne
~ MARSHFIELD ICECREAM
Marshfield
~ FIREWOOD
Wiltshire Wood Recycling, Castle Combe

IN THE FREEZER
~ LOCAL BEEF, SAUSAGES, PORK & CHICKEN
Monument Farm, Bremhill
Bartlett & Sons Family Butcher, Bath
LOCAL CRAFTS
Jewellery, Bird Boxes & more
GREETINGS CARDS BY SALLY SWANNELL, Wilcot, Wiltshire.
Specialising in quality, home and locally produced food, we offer an excellent range including; fresh vegetables, free range eggs, home-made cakes, jams and honey, locally reared meat and free range chicken, fast frozen to retain flavour and quality, bacon, cheese, ham, hand made scotch eggs and individual pies and fresh bread. There is a wide range of both essential grocery and household products.
Browse our selection of Local Crafts and greetings cards.
We provide a self service 'Post Point' for letters and small parcels throughout the UK, Europe and Worldwide. Proof of posting, Registered mail and Next Day Delivery services. Stamps of all denominations are available to purchase from the shop counter.
Whether you are looking for good quality, low priced, locally produced food, want to post a letter or buy 'top up items' you are sure to find a friendly and helpful volunteer waiting to serve you.

A delivery from Artingstall's Sheila, Pat, Catherine & Avril with a display of fresh produce
Opening Hours
Monday – Friday: 9am - 5pm
Saturday: 9.30am - 1pm
Sunday: CLOSED
PLEASE SCROLL DOWN FOR NEWS UPDATES

~*~*~*~*~
The Committee
Avril Balmforth, Delcia Fussell (Secretary), John Hall, Malcolm Jago, Simon Jones (Treasurer), Hilary Leek (Shop Manager), Kath Mackie, Roger Sealy, Pat Squires, Rick Squires (Chairman) & Sue Wilcock.
Non-committee roles
Matt Bridger (Rota Secretary)
~*~*~*~*~
~*~*~*~
Did you know that the generally held view amongst estate agents is that around a 5% premium is generated by having a village shop. How about thinking of your house price, working out what 5% of that is, then considering whether or not it is worth using the shop?!
"If every household in the village spent just £5 a week in our village shop this would ensure its success."


~*~*~*~*~
Kington St Michael Community Shop News

SHOP NEWS

GOATS CHEESE AND BUTTER
Check out the chiller for Delamere Goat's butter at £1.80 per pack and soft Goat's cheese is usually available.

HONEY
The Kington St Michael bees are working hard to produce more wonderful KSM honey which will be back in stock around the end of September. In the meantime we have taken on honey from The Wiltshire Beekeeper, this honey is produced by bees in varies parts of Wiltshire.

Why not try some Bee Pollen too, an holistic remedy rich in proteins, minerals, vitamins including B complex and folic acid, amino acids and natural plant antioxidants. It is often referred to as nature's most complete health food. Sprinkle into milk, honey, cereals, fruit or yogurt.

WALKING AROUND CHIPPENHAM AND SURROUNDING VILLAGES
Two titles '12 Walks around Chippenham' a selection of 2½ to 8 mile walks and '12 More Walks around Chippenham' a selection of 3 to 9 mile walks. Both books have been written by members of the Chippenham Group of the Ramblers Association. Clear instructions and detailed walks including a map for each one. Each book is £3.50.

COTSWOLD LAGER SPECIAL OFFER Bottles of Cotswold Lager - a refreshing Continental style lager giving a full and rounded flavour. Large bottle 500ml only £1.50 and small bottles 330ml only £1.00.

OPPORTUNITY TO MANAGE YOUR COMMUNITY SHOP
The manager's position will be available from September. This flexible part time position would suit someone needing to work from home and contribute to developing this vital community facility. Excellent organisational skills, lots of common sense, access to a computer and a good sense of humour is required. Job share considered.

Full training and support will be provided for this salaried position. If you'd like to find out more please call Hilary on 750471 or e-mail ksmvillageshop@yahoo.co.uk .

To apply for this fulfilling and interesting position please contact the Chairman, Rick Squires on 750335, or by email at rsquires@pienergy.co.uk .

~*~*~*~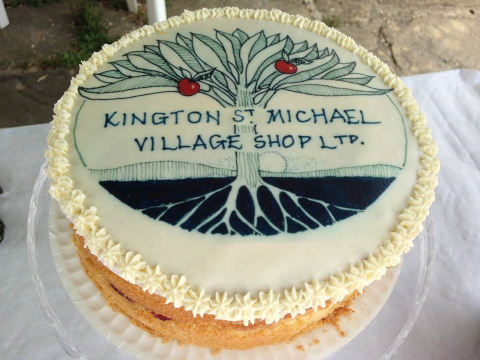 Congratulation to Kay Sambell, who won the shop's cake at the village Extravaganza
~*~*~*~
Kington St Michael Gifts
Most of you will have spotted our lovely Kington St Michael cushions, cushion covers and greeting cards showing the map of the village. We have now added a Kington St Michael mug to our range. Ideal gift to take when visiting friends and family or souvenir for visitors staying in the village.
~*~*~*~
We have an exciting selection of new products from talented local producers as we continue to increase our range of local produce. Call in and choose from the following selection; there's something here for everyone.
Mini Baronet Artisan cheese from The Old Cheese Room Neston: made from organic Jersey cows' milk this Reblochon style semi-soft cheese has a mellow buttery flavour with a hint of lemon in a washed rind.
Auntie Caroline's Pickled Onions – these incredible pickled onions are produced near Cirencester. Unlike other pickled onions these are made with a blend of vinegars and spices and are highly addictive! Beautifully presented in glass jars with cloth hats. Caroline also makes Pickled Onion chutney, Plum chutney and an original Bloody Mary chutney (yes, it does have a splash of Vodka in).
Rosie's Relish and Pickles – this Chippenham based business focuses on using the freshest of local ingredients. Vegetables and fruit are either home-grown or sourced locally and transformed into amazing relishes, pickles and chutneys using flavour-filled recipes that preserve the taste of the produce. No additional preservatives are used.
Why not try Rosie's Beetroot Relish; beetroot is roasted first to preserve and intensify its sweet, earthy flavour. It is then cooked with tomato, balsamic vinegar and horseradish.
Rosie's Piccalilli; a mixture of crunchy vegetables including cauliflower, carrot, red onion, cucumber and peppers in a tangy spicy mustard.
In a Pickle Food Company – based in Winsley, near Bradford on Avon, In a Pickle produces a range of high quality, award winning delicious chutneys, pickles, jams and marmalades. The chillies and cucumbers are grown in Winsley and the fruit comes from a neighbouring orchard. Out of season and for other ingredients, local suppliers and producers are used to source the best ingredients, supporting local businesses and the community.
We currently have on sale in the shop: Balsamic Onion Relish, Chuffin' Ale Chutney, Mango Chutney, Lemon & Apricot Pickle and Sweet Chilli Jam.
Once you have enjoyed the delights of cheese and pickle you can wash it down with a local ale or choose from our selection of wines.
Kennet & Avon Brewery, Devizes – the latest edition to our selection of craft ales is Caen Hill Hop, a strong golden ale with a powerful floral hop flavour. It's very easy drinking and ideal for summer barbecues.
~*~*~*~
Easter draw

The winner of the village shop's raffle for a basket of Easter goodies was Marion Hulbert.
Progressive Supper
Thank you to everyone who supported the progressive supper - we think you'll agree that it was a resounding success.
The total amount raised was £1,400.78, which will be shared between Acorns Pre-school and the village shop.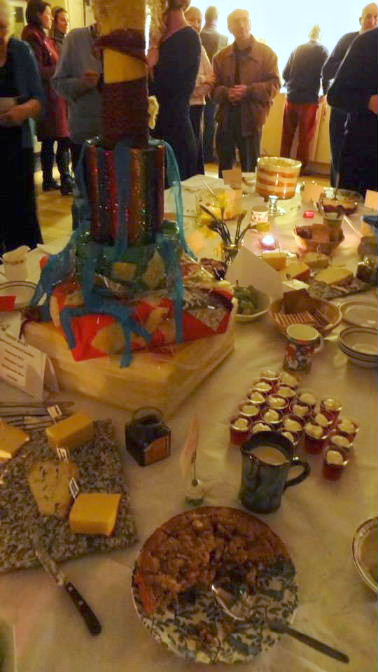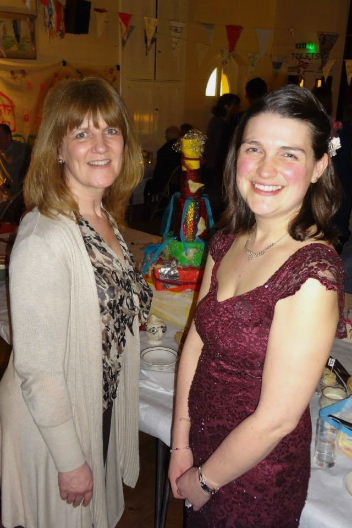 The delicious puddings (left). Hilary (KSM Shop manager) and Yvonne (Acorns Pre-school Chairman), who organised the
event for the shop and Acorns Pre-school
~*~*~
Village Shop's Christmas Raffle
Congratulations to Alison Greenhalgh on winning the Christmas hamper.
~*~*~*~
Get a Gift Voucher
Looking for a unique gift for any occasion? Why not choose a village shop gift voucher?
~*~*~*~
November 9th ~ New in Kington St Michael Shop this week:
Gem Amber Ale chutney and Game Keepers relish - award winning products from The Bath Food Company in Holt.
Pat Woodward's chutney - a local favourite, always popular with our regulars.
Chilli Jelly from Mrs McCarron's Comestibles (made from Sevington chillies).
These tasty chutneys and chilli jelly go particularly well with:
Wiltshire Loaf - award winning cheese from Brinkworth Dairy.
Our homemade pork sausages from Bath.
Once you've tried that lot you could wash it down with a good pint of local Muddy Wellies real ale or premium cider
from the Royal Agricultural College in Cirencester.
We look forward to seeing you very soon.
PS You can follow us on Facebook www.facebook.com/kingtonstmichaelvillageshop
(you don't need to have signed up to Facebook to view our page)
~*~*~*~
Ideal Present
Kington St Michael cushions - goose feather filling, washable cover:
18" x 18" cushion = £38 each
18" covers only = £29 each
12" x 12" cushions = £19 each.
Ideal gift or why not treat yourself?! Available in the village shop of contact Linda on (01249) 750514.
~*~*~*~
Congratulations to the winner of our November meat raffle, Catherine Dean, who has won a joint of pork from local producer, Monument Farm, Bremhill.
~*~*~*~
Monument Farm homemade pies are made to order and available from the shop on the last Friday of the month. Choose from a wide range of fillings: Steak & Onion, Steak & Kidney, Beef & Beer, Steak Mushroom & Port, Mixed Game, Pheasant & Beef, Pork Leek & Bacon, Pork Leek & Apricot, Chicken & Ham or Lamb & Mint. To place an order please contact Hilary on 01249 750471 or e-mail ksmvillageshop@yahoo.co.uk, by the Tuesday before the last Friday of the month.
~*~*~*~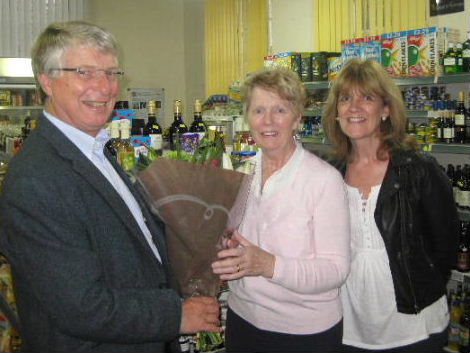 Our community shop has a new manager; Avril Balmforth retired as manager after five years in the job and has been replaced by Hilary Leek, who also lives in the village. Avril was presented with a bouquet by the Chairman of the village shop's management committee, Rick Squires.
The shop has a new e-mail address: ksmvillageshop@yahoo.co.uk.
Shop's meat raffle

The lucky winner of August's meat raffle at the village shop was Nina Abel, who receives 4 rump steaks from Monument Farm.
~*~*~*~
Grants
The village shop committee would like to thank Kington St Michael Parish Council for its grant of £450 towards the cost of the
annual postal collection at the shop's PostPoint, and also to Kington Langley Scarecrow Committee for £100 grant towards the same.
~*~*~*~
Picnic Table
Thanks go to the Jubilee Committee for the commemorative picnic table outside the shop, the perfect place to sit in the sun. Take away food is available from the shop including filled baguettes, cake, crisps, ice cream and hot and cold drinks.
~*~*~*~
Cake Raffle Winner
The lucky winner of the shop's raffle of a cake at the church fete was Katy Carr.
~*~*~*~
Kington St Michael Greetings Card
Available now from the village shop - £2.20 each.
~*~*~*~
AGM
Fourteen shareholders attended the shop's AGM on May 15th. The accounts were accepted and Kington Accountants re-appointed as the shop's accountants. Several new ideas for the progression of the shop were suggested.
Stan Hart left the committee as he is moving away and Hilary Leek was welcomed on as a new member. The new committee is Avril Balmforth, Linda Durno (Vice-Chair), Delcia Fussell (Secretary), John Hall, Maureen Hall, Malcolm Jago, Simon Jones (Treasurer), Hilary Leek, Kath Mackie, Roger Sealy, Pat Squires, Rick Squires (Chairman) & Sue Wilcock.
Local produce
The shop is happy to take any surplus fruit, vegetables and plants that gardeners may have. Conversely if you are looking for local home-grown produce please visit the shop to see what's available.
~*~*~*~
Congratulation to Brian Fisher, winner of our Easter Egg raffle.
~*~*~*~
New in store:
Wessex Mill - Strong White Bread Flour
Wessex Mill - Wholemeal Bread Flour
Doves Farm - Quick Yeast
Crunch Craving - Roasted & Salted Peanuts
Zest – Parmesan Cheese Bites
Sunrise – Spicy Natural Rice Crackers
Maretti - Mixed Cheese Bruschette
Linghams - Chilli Sauce
"With the flour and yeast, why not get baking like Paul Hollywood http://www.bbc.co.uk/search/paul_hollywood?!"
~*~*~*~
Find yourself short of cash when shopping with us? Why not open a Reverse Customer Account? It works like a Pay as You Go 'phone - just deposit £10 or upwards with us then every time you make a purchase it's deducted from your deposit, until it's time for you to 'top up' again.
You will be notified when your deposit has been used up.
....
The shop would like to reassure customers that all of its beef, chicken, pork and lamb
moos, clucks, grunts and bleats in the right order as it is sourced locally!
...
The shop is holding a monthly meat raffle.
Tickets are £1 each, available from the shop, for a chance to win locally sourced meat/joint.
....
The shop has reduced its minimum spend on credit cards to £5.
Purchases on credit cards of less than £5 will incur a 25p fee.
...
Whilst the weather remains so cold why not settle down in your nice warm kitchen and try this recipe.....
HONEY CAKE
(All ingredients available from the shop)
You will need
170g/6oz clear honey
140g/5oz butter
85g/3oz light muscovado sugar
2 eggs, beaten
200g/7oz self-raising flour
Water

For the icing
55g/2oz icing sugar
1 tbsp clear honey
Hot water
Method: Preheat oven to 180°C/350°F/Gas 3, and butter and line the bottom of a 7"/18cm cake tin. Measure the honey, butter and sugar into a large pan. Add in a tablespoon of water and heat the mixture gently until melted. Remove from the heat and then mix in the eggs and flour.
Spoon into the cake tin and bake for 40-45 minutes until the cake is springy to the touch and shrinking slightly from the sides of the tin. Cool slightly in the tin before turning the cake out onto a wire rack.
While the cake is still warm, make the icing by mixing together the sugar and honey with a little hot water. Trickle over the cake in whatever design that takes your fancy.
~*~*~*~
Difficulty Getting Out To Go Shopping?
Don't forget that the village shop will deliver, free of charge, to people who live in the village and who find it difficult to get out.
We can also take orders, either over the 'phone on 750471, or email ksmvillageshop@yahoo.co.uk formilk, bread and vegetables. Please bear in mind that the milk and bread is delivered on Monday, Wednesday and Friday and that we need at least 24hrs notice.
If you want to check on the availability of any of our products please ring the shop on 750181 for an update.
~*~*~*~

Avril, Kath & Maureen manning the shop's stalls at the Christmas Fayre on 1st December
~*~*~*~

(From left to right, Stan Hart, Linda Durno, David Macgregor and Rick Squires)
On November 7th David Macgregor, from Wiltshire Friendly Society, presented a cheque for £125 to the shop to contribute towards the annual cost of the postal collection; the Society recently celebrated its 125th anniversary.
~*~*~*~
Gift Vouchers
Now available from the village shop - gift vouchers in any denomination from £5 upwards!
Why not buy one for birthdays, as a thank you, Christmas, or as a stocking filler?
~*~*~*~
The shop welcomes any feedback you may have;
just email ksmvillageshop@yahoo.co.uk
~*~*~*~
The winner of the shop's cake raffle at the church fete was Val Simpson - well done Val!
~*~*~*~
750181 - our telephone number

474 products

47 'likes' on Facebook

43 ½ weekly opening hours

20+ volunteers

18 Christmas turkeys

17+ local suppliers

13 committee members

9 local craft lines

7 charitable donations

6 postal collections

5 anniversaries

5 star Environmental Health certificate

3 fresh bread and milk deliveries

AND ONLY 1 VILLAGE SHOP!
~*~*~*~
HOW MANY ITEMS DOES THE VILLAGE SHOP STOCK?
We bet it's more than you think! Currently the shop is stocking 474 different products and other items are being added all the time. To view a list of what's currently on offer just
click here
- you should be able to save yourself a trip to the supermarket (and your petrol) by popping down to the shop.
~*~*~*~*~
5th Anniversary

(Photo courtesy of Sarah Harriman)

Cilla & Colin with Iona at the pancake stall Avril & Gay on the wine stall
Thank you to everyone who attended the shop's 5th Anniversary on Saturday 28th April. The free tasting of local produce was very successful with people then becoming customers and buying the item from the shop. Takings for the morning were over £300 plus almost £50 from the sales of tea and coffee.
Following a recent inspection by the Environmental Health Officer the shop is pleased to have been awarded a 5 star certificate.

The shop is looking for news suppliers and crafts for the village shop; contact Maureen hall on (01249) 750550 for crafts and Avril Balmforth on (01249) 750671 for suppliers.
~*~*~*~
Stall at the Christmas Fayre - 3rd December

Kath & Maureen man the stall at the Chrsitmas Fayre. A selection of jewellery avaiable from the shop.
~*~*~*~

The Cheese & Wine evening on 15th October raised £254.10 for the Diamond Jubilee Fund. Thanks to all who supported this event.

Cheese & Wine evening 15th October '11
(photo by Sarah Harriman)
~*~*~*~
Shop Grants 2011
Kington St Michael shop committee is pleased to announce that the following organisations from Kington St Michael and Kington Langley have received donations from the shop's grant scheme for this year:
KSM Diamond Jubilee Committee
FOSMAA (Friends of St Michael & All Angels Church, KSM)
Friends of Kington St Michael Primary School
Kington St Michael United Charities
Kington St Michael Netball Club
Kington St Michael CE Primary School
Langley Fitzurse School (Kington Langley)
~*~*~*~
Community Area Award Success
Avril Balmforth was nominated in the individual section of the first Chippenham Community Area Awards, for her years of voluntary work with our community shop and the recent community defibrillator scheme. Having been shortlisted into the final four, Avril was Highly Commended and a framed award was accepted on her behalf.
Cheques
Please note that we are now unable to accept cheques (unless from credit account holders).
2010
What Our Customers Said About Our Christmas Supplies
"Dear Avril

I thought a mention about the trees and turkey was deserved. The trees were fabulous and remained looking as good as when I picked them up – truly no needle drop.

And the turkey was delicious.

Great suppliers, hope they continue to be viable.

Wishing the shop a good turnover in 2010.

Regards

Anne"


"Hi Avril

I just wanted to say (before I forget!) how delighted we were with our turkey, which you kindly delivered on the 23rd. It was delicious and nearly half the price of the free range turkey we bought last year from ********* [a local garden centre].

We know where to come next year and will spread the word!

Thanks again

Sally Jones
11 The Close"
Shop Festive Fair 2009


The shop's festive open day in the village hall on November 7th had a steady flow of visitors, who were able to learn about the Post Point, view stock and taste samples of cake, ham, pates and more. Orders were taken for turkeys, hams, pates, Christmas trees and other goodies.
The winner of the Christmas cake raffle was Pat Woodward.
LET THEM EAT CAKE!
ALSO AVAILABLE ARE HOME-MADE CAKES AND FUDGE BY LIZ McCARRON.
LIZ ALSO TAKES ORDERS FOR BIRTHDAY/ SPECIAL OCCASION CAKES
- CLICK ON THE CAKE
FOR DETAILS OF ALL CAKES.
~*~*~*~*~
Recycling
If you have any spare carrier bags, egg boxes or empty, clean, jam and honey jars, please take them down to the shop, where they will be re-used.
~*~*~*~*~
We have had requests for fresh bread on a Saturday
but unfortunately the delivery days are
Mondays, Wednesdays and Fridays.
We do our best to ensure that there is wrapped bread in store
on a Saturday but sometimes the demand is higher than anticipated
on a Friday resulting in little or no bread on a Saturday.
To ensure we have what you want you can place an order for bread
and we will reserve it for you for collection on Saturday.
~*~*~*~*~
THINKING OF HAVING A PARTY OR HOLDING A FUNCTION,
WHETHER IT'S FOR PLEASURE OR FUND RAISING?
DID YOU KNOW THAT YOU CAN BUY A SELECTION OF WINE - SALE OR RETURN - FROM THE VILLAGE SHOP?
SPECIAL PRICES FOR CASES OF 6 OR MORE BOTTLES
2 WEEKS NOTICE REQUIRED.
TO ORDER:
Email: ksmvillageshop@yahoo.co.uk or telephone: 01249 750181
or call in and place your order with a member of staff.
POSTAGE STAMPS
DON'T FORGET WE STOCK STAMPS FOR FIRST & SECOND CLASS MAIL, EUROPE, LARGE LETTERS & SMALL PACKAGES. FORMS FOR REGISTERED, NEXT DAY DELIVERY AND PROOF OF POSTING.
WE CAN SUPPLY SHEETS OF STAMPS FOR BUSINESS AND PERSONAL REQUIREMENTS; 24 HOURS NOTICE REQUIRED. TO ORDER CONTACT JOHN HALL 01249 750550.
~*~*~
Village Shop Comes 2nd in Awards
Our village shop has come second in Wiltshire Life's 2009 award for "Best Village Shop of the Year". The award ceremony was held at Wilton house on March 27th. The winner was Urchfont shop, with Steeple Ashton shop coming third (both are community run shops like ours).
~*~*~*~
~ There is a debit/credit card facility in the village shop. If you don't have enough cash on you, don't worry - you will now be able to pay with your card. Please note that for purchases under £10 there will be a small additional charge of 25p and that there is no cashback facility. The shop also offers a new "Carry Home" service, whereby you may come down and purchase your groceries and they will be delivered to your home as soon as possible, which is especially useful for heavy items.
~ The shop introduced a "parcel delivery point". This means that people who are out during the day can arrange for small, liftable parcels to be delivered to the shop for collection at their convenience.
There is now a haberdashery stand in the shop - do take a look for those useful little items you may need! New displays will be arriving soon
2007
~ The community shop's open evening on Friday 14th September was a great success. Parishioners turned out for an evening of produce tasting and wine sampling and many took the opportunity to do some shopping at the same time. The shop committee gathered information in person and via questionnaires and have taken note of questions asked. For example; it was asked if the shop stocks light bulbs including energy saving ones, and the answer is yes it does. Another query was for Diabetic jam, which can be stocked if there is sufficient demand. (Now stocked).
Several local businesses ran their own produce stalls – Ceri's Cheeses and Nicola Foxwell cakes proving very popular, as did Wiltshire Tracklements. Following positive feedback it is hoped to stock a selection of their products in the shop soon. Nicola Foxwell also offers a birthday cake service requiring two weeks notice. The cake can be pre-ordered through the shop.

The Open Evening
~*~*~*~*~
Kington St Michael Village Shop Ltd
The village shop in Kington St Michael has become a community shop, owned by the community and staffed, initially, by volunteers from the village and beyond.
The handover took place on Saturday 28th April 2007 and the shop was spring cleaned and completely rearranged, with new stock.
The new shop adopted a new legal entity from 1st May, as an Industrial and Provident Society Community Co-operative. This means that the shop is owned by the community for the benefit of the community. Anyone living or working in the local area can become a member as a shareholder, each share being £5. This will raise valuable funds for the shop, and will give you the opportunity to have a say on how the shop is run in the future. Please note, the liability of shareholders will be limited to the amount of shares purchased, i.e. £5. Residents are encouraged to purchase additional shares, but this does not incur greater voting rights, as the co-operative means that 1 member can have only 1 vote. This is a very democratic way of running a business and we believe will ensure that the shop remains in perpetuity for the benefit of Kington St Michael.


Currently the shop offers a good range of food, confectionery and household goods at reasonable prices, a number of which are lower than those in Morrison's and Sainsbury's for identical goods.

Running the shop in this manner should ensure its continued prosperity and expansion.
We need a bank of volunteers to help staff the shop.

If you have a couple of hours a week to spare please contact Hilary Leek on 750471 or
fill in the form.
Volunteers will also be most welcome to help with other aspects in running the shop. We were advised to change the layout of the shop to give it a central gondola to make it easier to access goods. If you have retail skills and/or experience your comments and advice would also be welcome.