Village News & Snippets
We now have a new style website - if you have saved a link for us and are seeing this information, please cancel the link - enter www.kingtonstmichael.com in your browser's address bar for the new website and then save that as a link.
You should see a website with a white background.
The Latest News & Snippets About The Village
(Contributions welcome - click on the "Contact Us" button, left)
~*~*~*~*~

"Quote of the Week"

Quote of the Week is an innocent remark or part of a sentence, overheard
or taken out of context, which sounds intriguing, funny or just plain daft!

"Ooh I do love my newts"!
"My grandmother was bawdy"!
~*~*~*~*~*~
For the June/July edition of the village newsletter please click here.

~*~*~*~
Village Website
We now have a new style website - if you have saved a link for us and are seeing this information, please cancel the link - go to www.kingtonstmichael.com
for the new website and then save that as a link. You should see as website with a white background.
~*~*~*~
Do you have working smoke alarms?
We know that working smoke alarms save lives, yet too many people don't take the time to test them regularly, or even have any smoke alarms fitted. Get it, install it, check it – it could save your life. The Fire & Rescue Service's advice is:
· Once a week – test the alarm by pressing the button.
· Once a year – change the battery (unless it's a 10-year alarm).
· Twice a year – vacuum and wipe the smoke alarm casing to ensure dust isn't blocking the sensor chamber.
· Whatever happens – never remove the battery to use it for other purposes.
If you have a gas boiler, open fire or wood burner it is essential that the gas boiler is checked by a qualified engineer (Corgi registered) and chimneys and flews are regularly swept and kept clear of blockages.
· A carbon monoxide alarm will also save you and your family from the fatal effects of carbon monoxide poisoning.
It is also worth checking that electric sockets are not overloaded with devices and appliances and the correct fuses are used at all times. If you are unsure ask a registered electrician to check household electrical devices and sockets throughout the house.
Some households will qualify for a free home fire safety check from Wiltshire Fire & Rescue Service. To find out more, call 0800 389 7849 or visit www.wiltsfire.gov.uk or call Jenny Plummer, Wiltshire Good Neighbour Co-ordinator, on 07557 922028, Email chippenhamgnc@communityfirst.org.uk
~*~*~*~
Fire at Tor Farm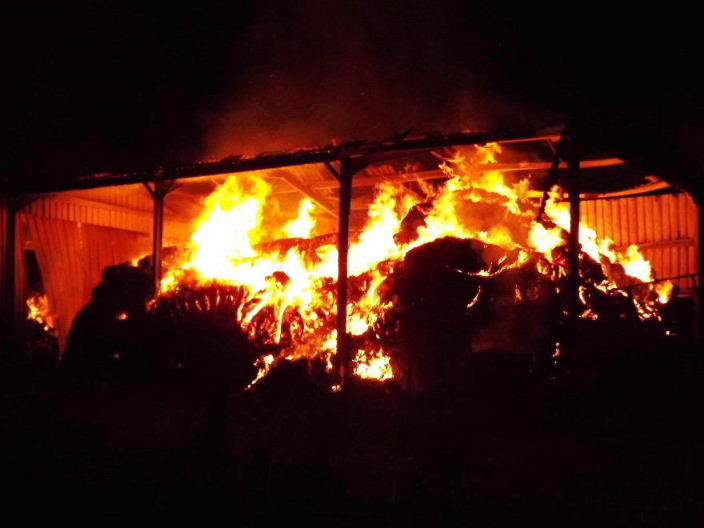 (Photo courtesy of Nigel Farr)
Brian Tayler's barn at Tor Farm was set on fire at some point on Monday afternoon/evening (8th September), resulting in the loss of the barn which was full of hay.
It is believed that this was arson; if anyone saw anything suspicious or anyone at the barn, please contact Wiltshire Police on tel. 101.
Update 11.09.14: According to the Gazette & Herald a 28 year old man from the village has been arrested and bailed on suspicion of arson.
~*~*~*~
Family Fun Day
The FOSMAA Family Fun Day is back by popular demand on Sunday 21st September, 2pm to 4pm at the church. Lots to do for kids of all ages - come along and parachute your Teddy off the church roof, see a bird of prey flying free in the church, meet some Dr Who and Star Wars characters, bouncy castle, prizes for the
best dressed child and best dressed Teddy, ice creams, and cream teas for the grown ups.
~*~*~*~
Town Close - Public Consultation
Green Square will be holding a public consultation on its plans for additional homes at Town Close on
Wednesday 10th September from 4 - 7pm, In Kington St Michael Primary School.
~*~*~*~
Engagement
Congratulations to Lauren Amos (daughter and step-daughter of Linda & Rob Durno) and Nick Odantzis on their engagement.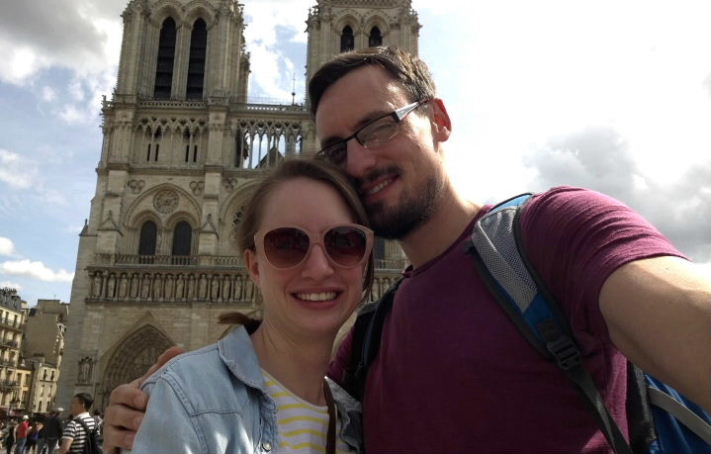 ~*~*~*~
Shop News
GOATS CHEESE AND BUTTER
Check out the chiller for Delamere Goat's butter at £1.80 per pack and soft Goat's cheese is usually available.
HONEY
The Kington St Michael bees are working hard to produce more wonderful KSM honey which will be back in stock around the end of September. In the meantime we have taken on honey from The Wiltshire Beekeeper, this honey is produced by bees in varies parts of Wiltshire.
Why not try some Bee Pollen too, an holistic remedy rich in proteins, minerals, vitamins including B complex and folic acid, amino acids and natural plant antioxidants. It is often referred to as nature's most complete health food. Sprinkle into milk, honey, cereals, fruit or yogurt.
WALKING AROUND CHIPPENHAM AND SURROUNDING VILLAGES
Two titles '12 Walks around Chippenham' a selection of 2½ to 8 mile walks and '12 More Walks around Chippenham' a selection of 3 to 9 mile walks. Both books have been written by members of the Chippenham Group of the Ramblers Association. Clear instructions and detailed walks including a map for each one. Each book is £3.50.
COTSWOLD LAGER SPECIAL OFFER Bottles of Cotswold Lager - a refreshing Continental style lager giving a full and rounded flavour. Large bottle 500ml only £1.50 and small bottles 330ml only £1.00.
OPPORTUNITY TO MANAGE YOUR COMMUNITY SHOP
The manager's position will be available from September. This flexible part time position would suit someone needing to work from home and contribute to developing this vital community facility. Excellent organisational skills, lots of common sense, access to a computer and a good sense of humour is required. Job share considered.
Full training and support will be provided for this salaried position. If you'd like to find out more please call Hilary on 750471 or e-mail ksmvillageshop@yahoo.co.uk.
To apply for this fulfilling and interesting position please contact the Chairman, Rick Squires on 750335, or by email at rsquires@pienergy.co.uk.
~*~*~*~
RNLI draw
Winners of the July RNLI draw are Angela Virr and Barbara Stark and August's winners are Lance Workman and Geoff and Janet King
~*~*~*~
Newsletter Editor
Many thanks to Charlotte Rogers-Jones who has volunteered to take over as the new editor of the village newsletter.
Thanks also go to Kim Lugtenaar for all her hard work as editor since June last year. Copy should now be sent to Charlotte via lottierj@gmail.com.
~*~*~*~
Kington St Michael United Charities – Educational Grants 2014
The Trustees invite applications from young people who are resident in either Kington St Michael or Kington Langley and who either are, or anticipate, following a university/college course, apprenticeship, or other similar specialised training beyond secondary school.
Written applications should be submitted to:
Colin Coles
Clerk to the Trustees
Swithins
Old Draycot Lane
Kington Langley
Chippenham
Wiltshire
SN15 5PA
Email coles.colin@talk21.com to arrive by 8th September
~*~*~*~
Dog Fouling Issues
Once again there is a problem with someone failing to pick up after their pet - this time near the bus stop and also on the lawn of the end house at The Ridings. Please be considerate and bag and bin all dog poo.
Did you know?
Primary school children and footballers are most at risk from diseases from dog fouling? After it has lain on the ground for two weeks worms develop, and their diseases and others can cause: toxocara canis, roundworm, salmonella and E-coli, resulting in pneumonia, asthma and blindness.
However it is SAFE to clear it up on the spot.
Don't run the risk – bag it and bin it. To report an incident of anti-social dog fouling please contact Wiltshire Council's Dog Warden on (01249) 706425.
~*~*~*~
Flower & Produce Show Results
A colourful display of flowers, fruit and vegetables lent a festive air to Kington St Michael village hall at this year's annual show. Delicious cakes, tasty jams and chutneys, beautifully hand-worked craft items and children's fun entries all added to the competition. The afternoon was rounded off with a light hearted auction of donated produce.
The overall winner was Pat Woodward. Other cup winners were:
WI Trophy for men - John Woodward
Vaughan Cup for ladies - Claire Broomsgrove
IK Alderman Shield for homebaking and preserves - Liz McCarron Heal
WI Vase for floral art - Claire Broomsgrove
Hughes Cup for the top scoring WI member - Claire Broomsgrove
Woodward Cup for photography - Pat Woodward
Novice Cup - Bruce Low
Singer Cup for 5-10 years old - Charlotte Clark
John Gilbert Cup for under 5 years old - Elizabeth Clark
~*~*~*~
Dogs on the Recreation Field - on Leads Please
Once again, please can dog owners be reminded that dogs need to be kept on a lead and under control on the recreation field, to keep the area pleasant for all users. This week a large dog was off the lead and left to its own devices; it ran up to another dog walker, one of our older residents, whose dog was on a lead. The lady was knocked over and has broken her wrist in the fall. This is doubly distressing as she is a carer to her husband.
Please be considerate - put your dog on a lead, keep it under control and please clear up after it. If you want to let if off the lead then you can do so in the Nymph Hay wood.
~*~*~*~
The Extravaganza 2014 – a message from FOSMAA


Tug of War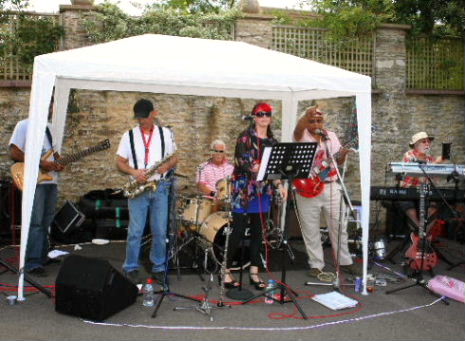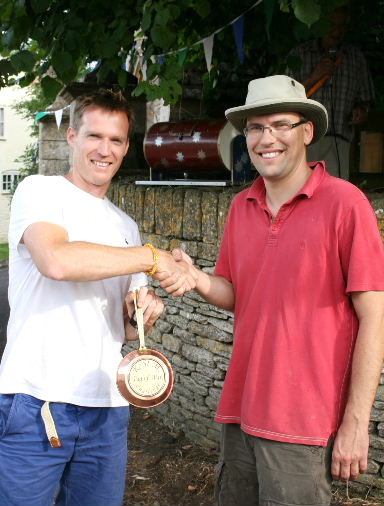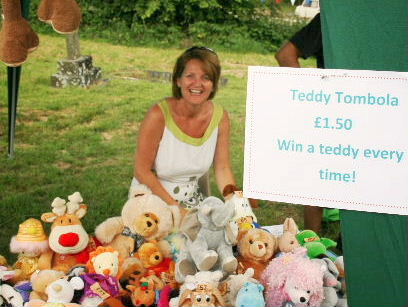 Santanda band Frying pan presentation Teddy tombola

Happily the sun shone on Kington St Michael for the Extravaganza which added to the enjoyment of the day. The support, the work and the enthusiasm of the whole community made the many interests and activities of this day very special.

In excess of £3,600 was raised for the church and the new facilities planned within it to increase potential uses of the beautiful building.

The winners of the K St M Tug of War Annual Challenge were the 'Leigh Delamere Warriors' championed by Hannah Dunn and family. Their team name and name will be the first to be inscribed on the trophy. Who will be the conquerors next year?

The skittles battle for the Langley Chase lamb was won by Patrick Rooney with a score of nine.

A list of raffle winners is pinned up in the village shop.

Cilla Labouchere would be grateful to receive any photos of the event, especially of the tug-of-war; email cilla@labouchere2.co.uk.

This note comes with an enormous THANK YOU from the FOSMAA Committee and the PCC for your fantastic work and support.

~*~*~*~

SECRETARY WANTED

A vacancy exists for a new club Secretary for Kington St Michael Club. Applicants must be computer literate and have internet access, be able to take minutes, have good communication skills and be prepared to attend an evening meeting once a month. For further details please contact Rosemary Sedgman, on (01249) 782677.

~*~*~*~

Thank you!

Acorns Pre-school would like to thank everyone who donated Sainsbury's Active Kids vouchers and especially those who helped at the "final push". This enabled the purchase of a kettle for the Woodpecker sessions, 24 beanbags, a cooling tray, measuring spoons, a book of games/activates suitable for all children, blindfolds, monster trax feet, six relay batons and orienteering flags.

~*~*~*~

Book & DVD Recycling Scheme

A £50 donation is currently available; if any village organisation would like to be considered for a donation please call Linda Durno on (01249) 750514 or e-mail kingtonstmichael@btinternet.com. Applications will be treated on their merit.

~*~*~*~

Village Mailing List

The Parish Council is introducing a village mailing list to communicate with parishioners, when using the noticeboards or newsletter would be too slow (e.g. we would have sent out an alert when the road through the village was shut after the telegraph pole caught fire). If you would be interested in signing up for these messages, please send your e-mail address to the Parish Clerk at ksmparishclerk@googlemail.com. There will be no charge for this service, and you can opt out at any time!

~*~*~*~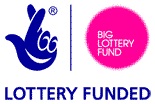 Big Lottery Fund – Awards for All benefits Kington St Michael
Kington St Michael Parish Council has been awarded a £2,220 grant for a Communicate & Include project. It will use the funding to upgrade the village website, for the community, which is limited and becoming outdated as it is now ten years old. This will provide an enhanced and interactive site which will be more suitable for residents to gain and share information about community activities and services.

~*~*~*~
Fire Closes the Road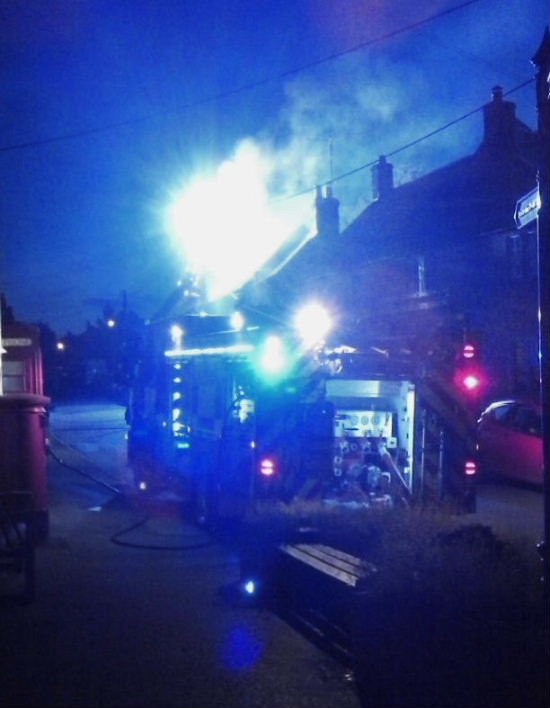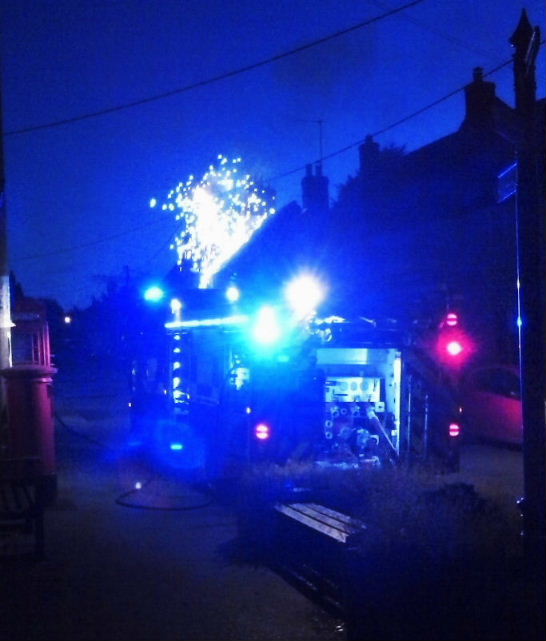 (Photos courtesy of Mark Lemon)
On Monday 14th July a telegraph pole, carrying electricity cables and a junction box, caught fire setting off very large explosions and lighting up the sky. The road was blocked by falling live cables and the fire brigade and electricity company attended the scene. At one stage a nearby house had fires on the roof, which were extinguished, and several families had to evacuate their homes for a few hours. Thankfully no-one was hurt although some properties wer without electricity until later that day.
~*~*~*~
Kington St Michael now has a Village Green
Wiltshire Council has now made a decision on the application to register the Pond Are in Stubbs Lane as a village green, and has concluded that the land should be registered as such. Linda Durno would like to thank those who provided evidence of its continued use within the community and to Nigel Farr for keeping it looking so beautiful.
~*~*~*~
Workshop Attendees in the Community Shelter
In July our community shelter was used by attendees to a workshop focusing on outdoor play
- they headed to the Nymph Hay Wood for a nature session and a muddy kitchen.............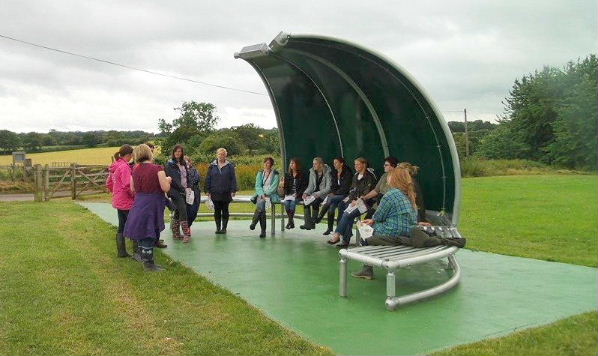 (Photo courtesy of Niki Willows)

Niki Willows has lived in the village for 24 years and has recently set up her own business Rounded and Grounded offering outdoor workshops and Forest School sessions for all ages as well as staff CPD training. On Saturday the village hall was the venue for a joint session with Hilary Tucker who is a Special Educational Needs Consultant. The workshop was to show attendees how they could differentiate activities for a wide variety of abilities and behaviours.

The session began with a chat in the hall followed by a wander along the village footpaths looking at how the environment could be used in either a playful or educational way. The group stopped at the community shelter to discuss the activities that they had completed before heading off across the stream into the Nymph Hay Wood where the activities took place under the shelter of some hazel trees as it was pouring!

The session finished with coffee and cake back at the village hall, the participants said that they had been inspired and ignited! Niki will be running more activities in the autumn and can be found on Facebook at Niki Willows Outside. Her free booklet ideas of outside ideas is downloadable here http://roundedandgrounded.blogspot.co.uk/2013/11/keep-it-simple-pdf.html

~*~*~*~

Volunteers Needed to Mow Churchyard

Volunteers urgently needed to help keep the Churchyard mown. The size of area will be tailored to suit time and energy. Machines provided. Please call Colin on (01249) 750222. More productive and more appreciated than the gym and free!

~*~*~*~

Village Evacuee - Can You Help With Information?

"Hello,

I just wondered if anyone had any information on evacuees or families that took them in, that lived in the village during the war. My father, Ken Smith, was evacuated there from Sept 1939-1944 with his elder brother and sister, Ronnie and Joan. They spent some time with a Mr and Mrs Weston who were childless themselves, then he and his brother went on to stay with the Broom family. The mother was named Violet and children were possibly Dennis and Margaret. He said they were looked out for by the lay preacher and his wife, Mr and Mrs Taylor and often went up to one of the farms owned by farmer Dudley. We're planning to visit mid-July so any information would be greatly received, thank you.

Regard, Kerry Smith".

If you have any information please contact Kerry Smith, 62 Pound Crescent, Tetcham, Surrey, KT22 9JL, tel: 01372 877409.

~*~*~*~

LIVING VILLAGE ARCHIVE - 21ST CENTURY

Dear Readers

Please can you consider submitting general information that you wish to share about your family, home, pets, garden, career, interesting experiences or personal musings so that we can prepare a modern day archive for future generations.

We all love to see what went on years ago, and how much our village has changed.

If you have suitable content, please can you contact Caroline Hooper at linehooper@hotmail.co.uk, and prepare a Word document with any photograph's etc. inserted? Thoughts may be along the lines of:

· Family Name (including maiden names)

· House/Garden pictures – before or after any Grand Design makeover!

· Amusing family photographs

· Places travelled to

· Interesting work experiences or places you have worked … you may find some new local links

· Social events not already on the web page

Check out

www.ccan.co.uk or www.brentorvillage.org/?page_id=139 for how other places are doing this.

Kington St Michael has a unique current history that needs preserving.

Your ideas will be very welcome, but you need to be mindful that the internet stores information for ever! All content will of course be vetted before being made public.

~*~*~*~

RNLI

The recent RNLI coffee morning at Sheila and Gordon Jobbins' raised £127 for the lifeboats. Thank you to all who supported this event and Sheila would especially like to thank Wendy Cruwys, Joan Gilbert, Barbara Tinson and Hazel Sandwell for their support.

Winners of the May RNLI draw are Mrs D Allen and Mr D Duncombe.

~*~*~*~

Do you remember 'Singing Together' at primary school?
I am working on documentary for BBC Radio 4 about 'Singing Together', the radio programme which was broadcast to primary schools from 1939 until the 90's.
If you went to Kington St Michael Primary School in the mid Seventies you may remember a song called 'Hunting the Hare', which caused quite a row in 1974. A BBC Education Officer visited and found that some of the class had refused to sing 'Hunting the Hare', or sang 'la-la-la' in protest. The teacher was called Miss Harris and the pupils were in the top class, age 9 -11, so they would be around 50 today. I would love to track down former pupils who might remember this.
I am also keen to find people who listened to 'Singing Together' during the war. The programme started in 1939, and the BBC hoped it would help keep up morale amongst children – particularly evacuees who were starting at new schools. If any village residents have memories or stories about the programme please ask them to contact me on ruth.evans@bbc.co.uk.
Many thanks,
Ruth Evans
Researcher, BBC Radio Current Affairs
1st Floor, Quay House, MediaCityUK, Salford, M50 2QH
Tel. 0161 335 6450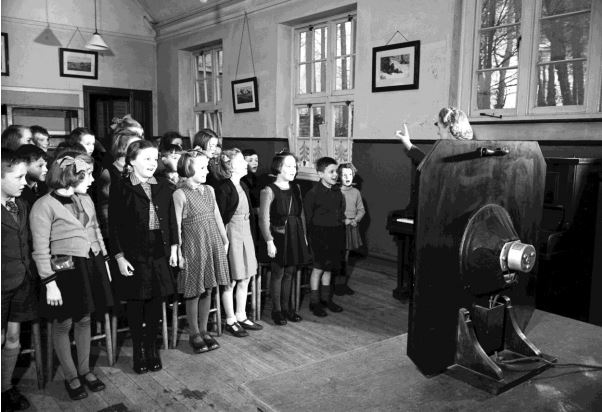 Calling all evacuees: Do you remember 'Singing Together'?
It was a BBC radio programme which was broadcast to primary schools and taught children to sing. It went out at 11am on Monday mornings, and a Scottish presenter called Herbert Wiseman taught children songs including 'Michael Finnegan', 'The Skye Boat Song', 'Haul Away, Joe' and 'The Keeper'.
It started in 1939, a few days after the outbreak of war, and the producers hoped it would keep up morale, particularly amongst evacuees who were away from home.
I am making a radio documentary about 'Singing Together' and would love to hear from former evacuees who remember it… perhaps you listened on the wireless in school or at your billet?
Please get in touch if you have any stories about the programme, and pass this on to anyone who might be interested.
Many thanks,
Ruth Evans
Researcher, BBC Radio Current Affairs
1st Floor, Quay House, MediaCityUK, Salford, M50 2QH
Tel. 0161 335 6450
~*~*~*~
Book & DVD Recycling Scheme
The Book & DVD Recycling Scheme has £50 available to any village organisation in need. Please send your request, stating what the money is needed for, to Linda Durno on (01249) 750514 or e-mail kingtonstmichael@btinternet.com. All requests treated on merit.
~*~*~*~
Overhanging Branches
Following the nice weather there are now quite a few branches from trees and shrubs overhanging the pavements, which is making passing difficult in various places throughout the village. If your property is adjacent to the pavement, please take and look and prune back anything that is in the way of pedestrians.
~*~*~*~
Ideal Present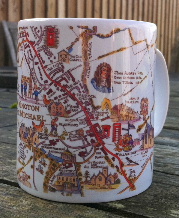 Kington St Michael mug £6.99.
To order, or for further details, e-mail kingtonstmichael@btinternet.com, call Linda on (01249) 750514.
~*~*~*~
Table Tennis
Kington St Michael Club now has two table tennis tables.
If anyone is interested in setting up a Table Tennis Club, please call (01249) 750336.
~*~*~*~
HELP NEEDED!
Village Link is a Good Neighbour service entirely provided by volunteers. It is a registered charity which has been operating since 1993. Our drivers make nearly 1,000 trips a year, serving the following villages:
Acton Turville, Alderton, Badminton, Biddestone, Burton, Castle Combe, Ford, Grittleton, Kington St Michael, Littleton Drew, Nettleton, North Wraxall, Slaughterford, West Kington and Yatton Keynell.
Village Link needs more volunteer drivers to take on regular tasks such as weekly shopping or luncheon club trips, and who are willing to be called on occasionally to take someone for a doctor's or hospital appointment.
All Village Link asks is for as much or little of your time as you feel you can give. We pay out of pocket expenses and a mileage allowance to covers driver's costs. Why not contact us now on 07590 720836?
~*~*~*~
Book & DVD Recycling Scheme
The 48th beneficiary of this scheme is Acorns Pre-school, which receives £50 towards a new wooden playhouse.
~*~*~*~
Easter draw

The winner of the village shop's raffle for a basket of Easter goodies was Marion Hulbert.
~*~*~*~
Progressive Supper - Save the Date!
The next progresive supper will be held on Saturday 7th March 2015 - details to follow, but save the date! Organised by Kington St Michael and All Angels WIs.
~*~*~*~
Widening of the A350
Please click here to see details of the widening of the A350. To find out more please visit these websites:
http://www.wiltshire.gov.uk/council/howthecouncilworks/plansstrategiespolicies/transportpoliciesandstrategies/lppfapplicationa350chippenhamdualling.htm
http://chippenham.ourcommunitymatters.org.uk/news/improvements-to-a350-chippenham/
~*~*~*~
Fish & Chips Friday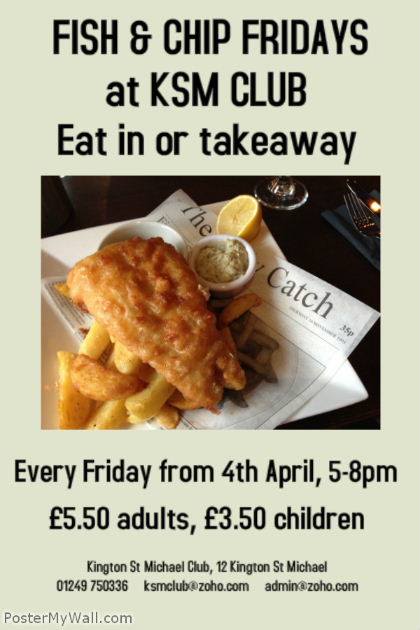 Fish & chips at Kington St Michael Club, from 5pm to 8pm - to eat in or take away. Every Friday for a trial period. Call (01249) 750336.
~*~*~*~
Children and cars
Now that the weather is improving everyone is getting out and about. Following a recent incident with children whizzing around in The Ridings on a sunny day, please would parents remind their children that cars may be reversing off drives and would drivers please keep a careful eye out for speedy children?
~*~*~*
To Infinity and beyond.........!
Our long-awaited Superfast broadband is here. The new fibre-optic cabinets are in and connected, so, if you would like to upgrade to an Infinity package, then visit http://www.superfast-openreach.co.uk/buy-it-now and click on your current service provider.
Many thanks to all the team that was involved in pushing for the Kington Langley exchange to be included in the first tranche of the changeover process in Wiltshire (Adrian Cole, Linda Durno, Charlotte Sealy and Rick Squires from KSM and Graham Trickey from Kington Langley).
~*~*~*~
Community Shelter opening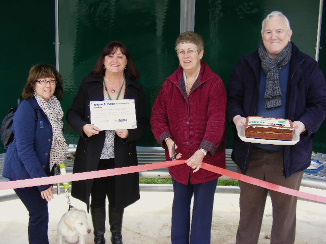 Vicky Welsh (Chippenham Community Area Manager), Mary Hardwidge (Grants Officer, Community First),
Maureen Hall (Chairman, Kington St Michael Parish Council) & Mike Pyne (Resident/Inspector, Green Square).
Kington St Michael Parish Council celebrated the opening of its community shelter on March 10th, after a funding boost from Hills Group, of £15,000, helped to make this possible. The grant was made available through the Landfill Communities Fund which is administered for Hills by Community First, the Rural Community Council for Wiltshire. The parish council also received grants from Wiltshire Council's Chippenham Area Board, GreenSquare's Community investment Fund and the village's book & DVD recycling scheme.
The community shelter lives up to its title by providing shelter from the elements at the village's recreation field. It provides somewhere where people of all ages can meet, chat and access the environment and nearby wood and is proving especially popular with young people and teens, who are keen to use its Bluetooth Playa©. There is disabled access to the shelter, via a concrete path, also making it accessible for mums with children in buggies, and its semi-circular layout makes it suitable for use by community groups.
~*~*~*~
Progressive Supper
Thank you to everyone who supported the progressive supper - we think you'll agree that it was a resounding success.
The total amount raised was £1,400.78, which will be shared between Acorns Pre-school and the village shop.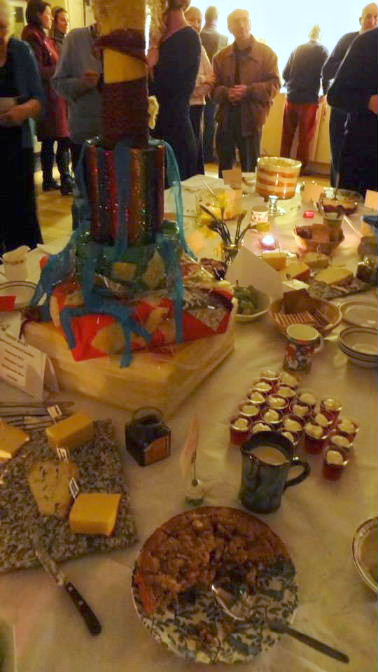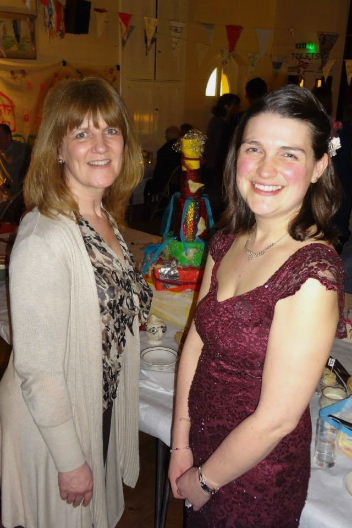 The delicious puddings (left). Hilary (KSM Shop manager) and Yvonne (Acorns Pre-school Chairman), who organised the event for the shop and Acorns Pre-school.
~*~*~*~
KSM FLOWER, PRODUCE & CRAFT SHOW
This year's annual show will be on Saturday 2nd August, 3pm in the village hall, with an auction of produce at 4pm, plus teas and a raffle. So now is the time to start thinking ahead and planning for it. Apart from fruit, vegetables and flowers the show includes photography, handicrafts, flower arranging and there are special fun competitions for children too.
All the information you need can be found in the show schedule (click here, and for the recipes please click here)
Do have a go! This is an important village event and has been going since 1974. It would be great if it could be the best ever in this its 40th year. Admission by donation.
Any queries please contact Janet Elms on (01249) 750423.
~*~*~*~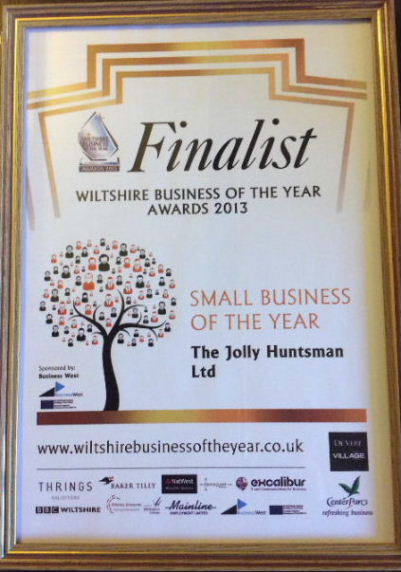 Helen & Simon of The Jolly Huntsman recently attended the Finalists Evening for the Wiltshire Business Awards and collected their certificate, as they have qualified as finalists. The main awards evening is in April when they will find out who the winners and runners up of each category are. The Jolly Huntsman is in the 'Small Business of the Year' category.
~*~*~*~
Exercise for Older People
There are benefits of keeping active, even when we are older. These include:
Helping to reduce the likelihood of suffering from many diseases or helping in the management of existing conditions.

Helping to maintain mobility and balance and reduce the risk of falling.
Getting together for activity with others which can be fun and help us feel less isolated. There are a range of exercise groups for older people in the Chippenham area, including chair-based exercise groups, postural stability classes, which are designed to help those who have had a fall or are afraid of falling, and classes which combine chair-based and standing exercises. There is also a Fitness and Friendship Club run by Age UK and a number of informal walking groups.
If you would like more information about this or any other issue affecting older people in our local communities please contact:
Jenny Plummer Good Neighbour Co-ordinator.
Mob: 07557922028
Email: chippenhamgnc@communityfirst.org.uk
~*~*~*~
The Jolly Huntsman is named Gazette & Herald "Pub of the Year 2013"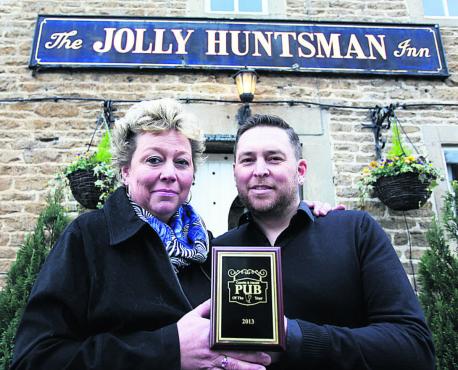 From the Gazette & Herald, 23rd January:
"Husband and wife team Helen and Simon Curtis are toasting success after their pub The Jolly Huntsman at Kington St Michael, near Chippenham, was named the Gazette and Herald pub of the year for 2013.

Mrs Curtis said: "It is a fantastic start to the year. It is lovely to know that people like what we do and have voted for us. All of our team works very hard but something like this makes it all worthwhile."

The free house prides itself on being at the centre of the community and creating a warm welcome for people who come from outside the area.

Mrs Curtis said: "We have fantastic local support and this creates a really good atmosphere in the bar. People who aren't local who come in often find they quickly become part of a conversation."

The couple regularly work 18 hours a day but allow themselves two evenings a week off. Mrs Curtis said: "We work seven days a week but we really love what we do. It is more than just a job, for us it is a way of life."

The pub stocks a large variety of real ales and likes to support local micro-breweries. It is well known for its good food and also has a bed and breakfast business.

Mrs Curtis gets up at 6.30am every day to prepare breakfast and it is rare for her to be in bed before 1am.

Mr Curtis, 37, has two children Jack, 13, and Ella, 11, who stay every other weekend and are happy to fit in with pub life. The couple met when Mrs Curtis, 44, was a barmaid at The Jolly Huntsman and her husband was a regular. When the pub came on the market about ten years ago they bought it and have been building its success ever since."
~*~*~*~
2013
Tor Hill Footpath
In April this year, 2013, work was started on the long awaited footpath alongside Tor Hill. This narrow road with a blind bend has always caused problems for motorists and pedestrians alike. But now it was possible to show how safety issues in this area could be improved, allowing both pedestrians and cyclists a separate route.

In September, having completed Phase One of the footpath, the Parish Council asked the Area Board for financial help to complete it. This required the boarding and laying of a firm surface suitable for all weathers, with the addition of tarmac at either end of the footpath. The tarmac at each end allows the centre part of the path to stabilise and keeps any gravel, etc from falling into the road. The path was then completed pedestrian gates at either end, in the interests of safety, to slow any small persons or bikes from suddenly erupting onto the road system.

The Parish Council is very grateful to Wiltshire Council's Chippenham Area Board for its grant, which enabled the completion of Phase 2 of the footpath.

Since the footpath has been completed it has been well used and compliments have been received from a number of residents. The Chairman of Castle Coombe Parish Council has also been to see what has been achieved, and was complimentary on the quality of the work and the overall cost.

Children, dog walkers, disabled persons and mums with push chairs, etc now have a much safer route to and from the village. The views from the footpath are also attractive and open up the aspect of the village along it

There is still one more phase that needs completing. This will take the north end of the footpath alongside the front of Magpie Cottage (on land bought by Wiltshire Council for this purpose) to join up completely with the village footpath system, with a more open and visible crossing point.

The Parish Council is currently looking into this, but is awaiting a response from Wiltshire Council before the project can start.
~*~*~*~
Help and support for people who care
According to the last census, there are 47,608 people in Wiltshire providing care and support to a relative, child, partner or friend who would not be able to manage on their own. There are many reasons why someone may not be able to cope unaided including physical or mental disability, old age, long-term illness, special educational need, eating disorder or a problem with drugs or alcohol. It is estimated that 3 in 5 people will become a carer at some point in their lives. The problem is that most people will not identify themselves as such – people simply consider themselves as a spouse, sibling, parent, grandparent or friend doing what they would be doing anyway. Many also mistake the word 'carer' with those providing
paid
care work in a residential home or domiciliary agency capacity. Carer Support Wiltshire is a charity with a team of support workers who can provide information and support to carers living in Wiltshire, at the other end of the telephone, or face to face, along with accessing to counselling and advice relating to your role. All of our services are free and confidential for anyone aged 18 and over and we can offer you the chance to have a break through social cafés, days out, activities, craft groups and complementary therapies. We will shortly be running a monthly carers café in nearby Chippenham where you can come along to chat with other carers over a hot drink or two. To find out more about us, or to register for some support, please visit our website
www.carersinwiltshire.co.uk
, email
info@carersinwiltshire.co.uk
or freephone 0800 181 4118 (01380 871690 from a mobile).
~*~*~*~*~
All Angels WI in the Mirror!
With the WI enjoying resurgence and a new set of younger members, the Mirror's Polly Hudson attended a meeting of All Angels WI in Kington St Michael, and uncovered a craftier side to it. Take a look at: http://www.mirror.co.uk/news/uk-news/modern-day-womens-institute-more-wine-2913295.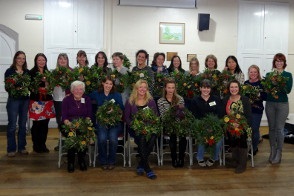 Wreath making
There was a great turnout for our evening of festive wreath making. Everybody was supplied with a metal ring, a bag of moss and a plentiful selection of greenery and given a quick demonstration on how to put it all together. The results were fantastic; look out for them on doors in December! Members were also joined by journalist Polly Hudson from The Mirror and the NFWI's Head of Communications, Charlotte Fiander.
~*~*~*~
Christmas Fayre Competition Results
Sloe Gin competition - Congratulations to Megan Wood who won the trophy for the third year running! Village picture/photo competition for adults - Congratulations to Steve Barratt for his beautiful painting of the church! Children's Christmas card competition - Congratulations to Elizabeth and Charlotte Clark who won the children's Christmas card competition. Elizabeth's cute feathery robin came first in the under 5 category and Charlotte Clark's colourful nativity came first in the 6 – 11 category. Well done to everyone else who entered their beautiful Christmas card creations. Thanks to everyone's support the event raised £624 for village hall funds.
~*~*~*~
Published - Outdoor Fun!
Congratulations to Niki Willows who has had a booklet published on outdoor activities for children, entitled "Keep It Simple". Niki wrote it as part of the "Screw Work Let's Play, 30 Day Challenge", so it took her 30 days overall, including setting up a blog and working out how to upload PDFs, etc. Niki, who has a background in Forest School, Early Years, Special Educational Needs and play, says "It's a great project if you have some ideas whizzing round in your head - kind of makes you focus". To download a copy of the booklet, with Niki's kind permission, please click here.

~*~*~*~
Poppy Appeal
This year's Poppy Appeal raised £118.70 from the village. Collection boxes were placed at the shop, church, club, pub and school.
~*~*~*~
Bonfire Night
This year's bonfire night made a profit of £875.
The bonfire night working group would like to thank all those that helped during the day and the evening.
~*~*~*~
Use the new Wiltshire Council App to report potholes in Chippenham!
To make life even easier, we have an app so you can report on the go using your smartphone. The MyWiltshire app is available to download at both the Apple iStore (for iPhones and iPads) and from Google Play (for Android phones). You can attach information such as photos or videos and pinpoint the location of your report using the mapping software on your phone.

Download the app:
Apple iStore https://itunes.apple.com/gb/app/my-wiltshire/id593871106?mt=8
Google Play https://play.google.com/store/apps/details?id=council.wiltshire.app

~*~*~*~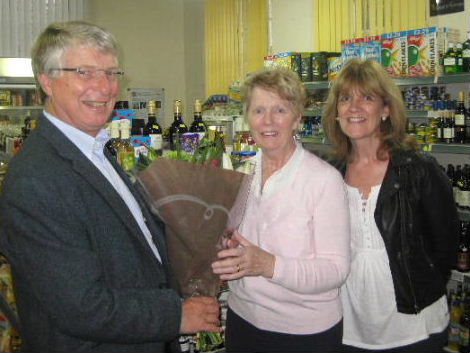 (Rick Squires presents a bouquet to Avril Balmforth with Hilary Leek looking on)
It is time for change at the Community owned village shop and Post Point in Kington St Michael.
The current shop manager Avril Balmforth retired on 30
th
September after five years in the job. She will be replaced by another local villager, Hilary Leek.
Hilary says that:
"The shop and Post Point has gone from strength to strength during the time that Avril has been manager, it has become a vital part of the framework of the village, along with the pub, club, school, village hall and recreation field.
It is a vital part of the community and I look forward to working with the volunteers who have made it such a vibrant part of the village. We are open six days a week and as well as the usual goods that you would expect in a village shop, we also provide a full worldwide postal service covering letters and parcels with special and recorded delivery"
The shop which is run as an Industrial and Provident Society is owned by over 100 shareholders from the village and elsewhere. This year it celebrated its 6
th
anniversary as a community shop, the opening hours are 9am to 5pm on weekdays and 9.30am to 1pm on Saturdays.
The shop has a new e-mail address:
ksmvillageshop@yahoo.co.uk
.
~*~*~*~
Village Hall Car Park
It has been frequently noticed that the car park is full even at times when the Village Hall and shop are unoccupied. The Village Hall Committee would like to remind villagers that the car park is for the use of hall users, including shop users, when on the premises. The back two spaces are allocated to Gain Solutions, who rent the old hall, and whose rent significantly helps with the running of the hall. The fact that there is a car park, albeit small, is a factor in attracting potential hirers, and everyone's co-operation in keeping it free would be appreciated.
~*~*~*~
Footpath Problems

Walkers are requested to ensure that they are on a public footpath when walking in the parish. Local landowners have suffered people walking in fields without footpaths and damaging crops, leaving gates open and letting livestock escape or allowing dogs to worry animals. Shooting also takes place in certain fields and walkers are advised to keep to footpaths for their own safety. (For a map of KSM footpaths click here or Ordnance Survey Explorer map no. 156).

~*~*~*~
Some ideas and tips about care services
You might have reached a time in your life when you feel you need a little help at home or may even be considering moving into residential care. There is a lot of information available about care services but finding out what is appropriate to your needs can be a difficult task.
Here is a brief guide to help you.
Think about care options before you actually require them. Research local care agencies and residential care centres. Ask for brochures or visit centres that may be of interest to you.
Depending on your financial situation, you may be able to claim government help via your local authority or NHS. Attendance Allowance is available if your care needs meet the criteria. You can apply through your local Department of Social Security. Agencies such as Age UK can help you complete application forms.
For those with large amounts of savings, who would not be eligible for financial help, other than Attendance Allowance, it would be worthwhile getting financial advice from a CF8 qualified adviser. You should be able to get free financial advise from a number of agencies including Citizens Advice Bureau and Age UK.
You may have capital tied up in your home but cannot afford to be cared for at home. Equity release might be an option but seek independent advice first.
If you are considering going into residential care and selling your home to finance it get independent financial advice from a CF8 qualified advisor or Age UK.
When choosing a care centre visit as many as possible in your local area, even those that you hadn't previously considered. Ask questions during your visit and seek advice from advice agencies.
If you choose to stay at home, request 2-3 care agencies visit you and family members at your home. Ask friends or anyone you know who uses them for recommendations.
Specialist nursing care may be available for certain health problems such as Alzheimer's Disease, Parkinson's, MS, Cancer. Contact you surgery or health centre.
Be careful about employing a local person. Are they CRB checked? You may need to seek advice about employer/employee regulations so contact CAB or HM Customs and Excise.
Sadly, it is often only when a crisis occurs that decisions about people's care are made. Under such circumstances, decisions made in haste can lead to regret later. If you would like further information about this topic please contact Jenny Plummer, on 07557 0293106, e-mail
chippenhamgnc@communityfirst.org.uk
.
~*~*~*~
Advertise Here!
Do you have a small business? Are you local?! Why not advertise on this website for only £15 per year? (That's just £1.25 per month!) Take a look at other advertisers by clicking on "Local Businesses Adverts" above. If you are interested please contact us kingtonstmichael@btinternet.com.