Village Weddings
VILLAGE WEDDINGS
"Something old, something new,
Something borrowed, something blue.
Happy is the bride with a sixpence in her shoe"
(Confetti is now sold at the village shop!)
2013
EMMA SHAW & MATTHEW BALMFORTH
On Saturday 14th September Matthew, son of Avril and the late Ivan Balmforth, married his childhood sweetheart, Emma Shaw, at Winkworth Farm near Lea, Malmesbury. Emma wore an Enzoani wedding dress made of ivory silk organza and tulle. The dress had a strapless sweetheart neckline and ruched bodice with taffeta flowers and lace appliques on the tulle mermaid skirt.
The weather was perfect, enabling the couple to marry in a Cotswold stone arbour situated in the sunken garden surrounded by family and friends. The bride was given away by her father, Peter Shaw; her mother Mavis was a witness, together with the groom's sister Louise Balmforth. Music throughout the ceremony was provided by Lorna Davis on cello and Catherine Chamberlin on violin. Readings were given by Karen Balmforth, Louise Balmforth, Jackie Beckett and Kate Turner.
After the ceremony the guests enjoyed drinks in the grounds of the venue before sitting down to a delicious wedding breakfast catered for by Manor Events. This was followed by dancing late into the night. The bride and groom spent the night at The Close hotel in Tetbury before flying off on their honeymoon in Olu Deniz, Turkey. Several of the guests stayed in tipi accommodation next to the venue.
Matthew and Emma will continue to live in Cheltenham where they settled after leaving University.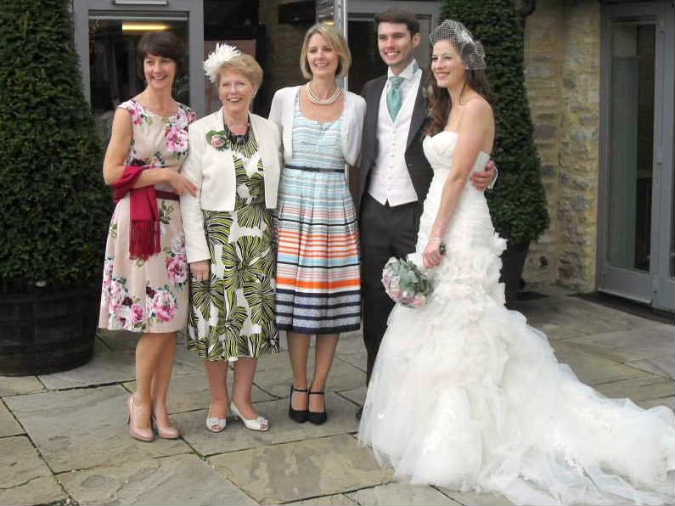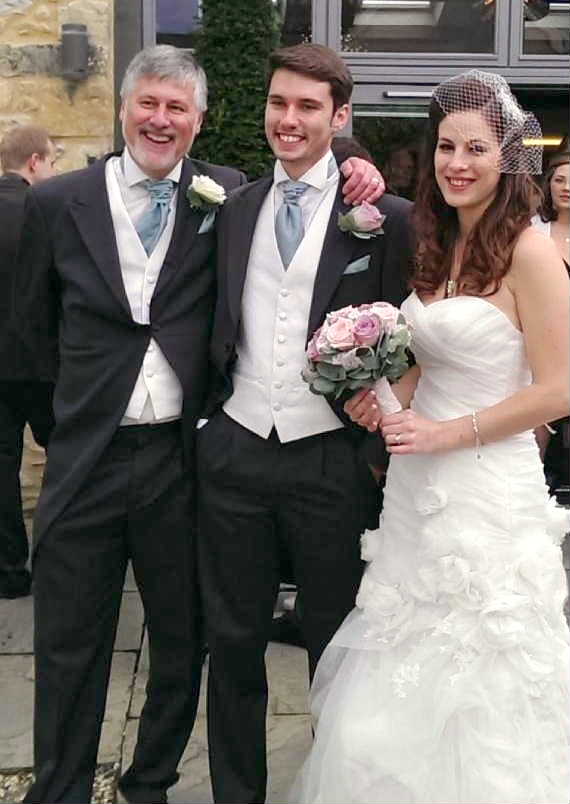 JACQUI HOOPER & LIAM JEPSON
On July 19th 2013 - a brilliantly sunny day - Jacqui, eldest daughter of Colin and Caroline Hooper, married Liam Jepson, youngest son of Jill and Phil Jepson from Surrey, in the village church. Jacqui's dress was a strapless ivory chiffon number, with pleat details at the front, lace fastenings down the back and a long train. Her bouquet was 'hot pink' in colour. The bridesmaids were Jacqui's sister, Jodie, school friend Claire Daly, and university friends Kate Woodland and Rhian Locke. The Best Man was Rick Peacock, with the ushers being the groom's brother, Kevin, Simon Hooper (Jacqui's half-brother), plus friends James Halford, Matt Higginson and Ryan Lilley. Flower girls were Jacqui's nieces Eden and Freya Hooper, and her nephew George Hooper was page boy.
The BBQ wedding breakfast was held at Kingscote Barn, Tetbury and was followed by a disco, with the evening so warm many people stayed outside to enjoy the stunning setting and moonlight until the early hours.
The couple had a short honeymoon in Cornwall before returning home to Redhill, Surrey and then on to work in London: Jacqui is an environmental analyst with Halcrow, and Liam a quantity surveyor for Balfour Beatty.

Liam & Jacqui Caroline & Colin Hooper (bride's parents)

The happy couple with their attendants and ushers


Gerry Gamble sneaks up on Lyn North and Caroline Hooper
2009
LINDSAY HAWKINS & JAMES FUSSELL
On Saturday 8th August, Delcia and Andrew Fussell celebrated the wedding of their son James to Miss Lindsay Hawkins at St Mary's Church, Templecombe, South Somerset. Lindsay wore an empire line dress of ivory silk delicately ruched at the bust and falling into a fluid, shimmering skirt. The straps were woven into a circular shape at the back and covered with stunning crystals. The bride's bouquet consisted of ivory roses and blue gentiana. The bridesmaids were Lindsay's sister, Kate, who had flown in from New York, and friends Catherine Brennan and Jenny Stokes. They wore elegant midnight blue dresses. Henry Maunder, the groom's two year old nephew, was a page boy. Best Man was Mr Tony Smith and the ushers were the bride's brother Oliver, and friends of the groom, Steve Doble, Jim Pettiford and Paul Richardson
After the ceremony the reception was held at the Haynes Motor Museum at Sparkford. Guests enjoyed drinks amongst the museum's Ferrari collection before sitting down to a delicious wedding breakfast. This was followed by dancing into the early hours. Mr & Mrs. Fussell honeymooned in North America. Lindsay is a primary school teacher in Weston-Super-Mare and James works as a Senior Technical Consultant in IT.

James & Lindsay The happy couple with James' family



Delcia's snazzy shoes!


SAMANTHA DAVIES & ANTHONY COLE
The wedding of Anthony Cole and Samantha Louise Davies took place on 1st August 2009 in Chippenham Register Office. They were accompanied by six beautiful bridesmaids - Sarah Hibberd (the groom's sister), Jessica Davies (the bride's sister) and four close friends of the bride - Katie Tinklin, Jemma Goulding, Melissa Bean and Dawn Bould. The couple's two nieces, Abby and Ella, made gorgeous flower girls. The best man was Dan Edmunds, who put his excellent skills as a landscape photographer to good use by taking the wedding photographs. The bouquets were made by Steph Slater and contained purple freesias and white roses. The cake was decorated with purple flowers, a bride and a groom dressed in jeans and t-shirt as a comical reference to the groom's disdain of suits and ties! The reception was held in Langley Burrell Village Hall, attended by many close friends and family. The couple would like to thank all those who attended for making it a wonderful and memorable day.

Anthony and Samantha's wedding Samantha, Anthony and their bridesmaids

The wedding cake
2008
JANET SMITH & GRAHAM CHARGE
Janet Smith and Graham Charge, both of Kington St Michael, were married on Saturday 6th December in a civil ceremony, complete with a piper, at Kilcamb Lodge Hotel, Strontian in the Western Highlands of Scotland.
In attendance were Janet's sister Gill, her husband Davie and children Rurigdh, Tess and Josie, Graham's father, Gordon and his wife, Eve and his brother and sister-in-law Keith and Julia. The ceremony was followed by celebratory champagne and dinner at the hotel and the couple spent the weekend walking in the snow with their dogs, Millie, Becks and Wort.

The following weekend an evening party was held in Kington St Michael Club for the couple's local friends, who enjoyed a disco and karaoke fuelled by a variety of chilli dishes. It was requested that, instead of presents, donations could be made to "Help for Heroes" and over £250 was collected.

Janet is a Trainer & Development Consultant and a member of the parish council and Graham is a Lieutenant Colonel in the British Army.

Janet & Graham's wedding, 6th December 2008
JENNI CAPON & RICHARD EDWIN-SCOTT
The wedding of Jenni Capon and Richard Edwin-Scott took place on Saturday 31st May in the village church. Jenni is the only daughter of Julian and Thirza Capon of Melksham and Richard is the youngest son of Ken Edwin-Scott (formerly of Kington St Michael and now of Kington Langley) and the late Jackie Edwin-Scott.
The bride wore an ivory halter-neck dress with diamanté detail around the neckline, hem and train. Her veil was trimmed with crystal drop beads. She wore a jewelled tiara in her hair and jewellery to match. Her bouquet was of cream roses and blue freesias. She was attended by a maid of honour, Fiona Hartley, and five bridesmaids: Millie Capon (the bride's niece), Phoebe Pearce, Charlotte Edwin-Scott, Amelia Pearce and Lauren Edwin-Scott (the groom's nieces).
Miss Hartley wore a strapless bronze silk dress, with a crystal and pearl fascinator in her hair, and the younger bridesmaids wore cream organza dresses with bronze sashes, decorated with butterflies and dragonflies. They carried posies to match the bride's bouquet. John Martin, Richard's childhood friend, was Best Man and the Ushers were Iain Edwin-Scott and Jeremy Pearce, the groom's brother and brother-in-law.
The reception was held at The Angel hotel in Chippenham, where guests were treated to Buck's Fizz on arrival, followed by a wedding breakfast of creamy mushroom tartlets, lamb shanks and vegetables, and profiteroles. Many friends from the village attended and stayed for the evening reception and buffet with disco. Mr & Mrs Edwin-Scott will be honeymooning in Switzerland and Milan. Both bride and groom work for Moto Services, Leigh Delamere and live in Chippenham.

(Photos courtesy of Steve Carpenter. To view more click here)
ROSEMARY JAGO & MARK DONE
The wedding of Rosemary Alison Jago and Mark Anthony Done took place on the Friday 16th May, at St Michael & All Angels Church, Kington St Michael. Rosemary is the eldest daughter of Malcolm and Christine Jago of Manor Close, Kington St Michael. The service was conducted by the Rev Simon Tyndall and the Rev Cannon Fred Collins, a family member.
The bride wore an ivory silk taffeta dress, designed by Suzanne Nevill. She was accompanied by eight bridesmaids from school and university days and her two year old niece was a flower girl. The dresses were light sage green silk taffeta, designed by Dessy, and the flower girl wore ivory silk. The bride's bouquet was of Akito roses, white hyacinths, and white peonies. The bridesmaids carried bouquets of white Maroussia roses.
Following the ceremony, the reception was held at the Rectory Hotel, Crudwell. The Lochrian string quartet provided music during champagne and canapés at the guests' arrival. The theme of the wedding breakfast was champagne, as Mark proposed to Rosemary in the champagne region of France. The evening party danced or relaxed to the music of the Road House Five, a swing and jazz band.
After a Blessing service at St Martin's, Weston-Super-Mare, on the Sunday, Rosemary and Mark left for their honeymoon in New Zealand.
The family would like to thank everyone who helped to make this such a wonderfully memorable day.
2007
CHARLOTTE NIELD & JAMES CHERRY
Charlotte Nield formerly of The Close married James Cherry at Backwell Church on 21st July. Charlotte was given away by her father Rich Nield and attended by her sisters Jo Killoran and Lucy Healey with friend Nicola Hill and school friend Gina Green, who had travelled from the Cayman Islands. The bridesmaids wore pale pink strapless dresses with a deep pink trim. Pageboys Sam Parsons and Kian Healey, the couple's Godsons, were dressed in cream waistcoats and trousers. The bride carried cream and pink roses and wore an ivory silk, strapless gown studded with seed pearls and diamanté. The reception was held at the beautifully refurbished Cadbury House in Congresbury. Guests were served bucks fizz on arrival followed by a wedding breakfast of melon with champagne sorbet, chicken in red wine or oven roasted vegetables tart, followed by tarte au citron and passion fruit ice cream. The evening was spent dancing to a funk band interspersed with a disco. Mr and Mrs Cherry will be honeymooning in Malaysia. James works as an accountant for Lloyds TSB and Charlotte is a Human Resources Advisor for GE Capital.

Charlotte & James Lucy, Charlotte & Jo
(Photos courtesy of Niki Willows - to view more click on icon
)
PAUL & MYRA FORTUNE
Paul & Myra were married at St Michael & All Angels church on Saturday 26th May. Paul has been the organist at the church for 23 years and the service was attended by many of the regular church congregation and the choir of
St Andrew's church in Chippenham (of which Paul is a member) sang.

Paul & Myra's wedding at St Michael & All Angels church

2006
BECKY POWELL & IAN BARDWELL
Congratulations to Ian Bardwell, of Kington St Michael, and Rebecca Powell, of Lower Hardenhuish Farmhouse, Chippenham, who were married in the village church, St Michael & All Angels, at 2.30pm on Saturday 12th August.
The bride wore a cream off the shoulder dress trimmed with satin rosebuds around the neckline; she had a three quarter length veil held in place by a crystal tiara. Becky was attended by her friends Nicky Walters and Sharon Butler, both dressed in full length pink satin dresses with shoestring straps and silver mules decorated with diamanté flowers. They all carried bouquets of cream and pink rosebuds with gypsophila. The bride was given away by her father, Mr Michael Powell. The bride's mother, Angela, wore a fabulous lavender outfit complete with matching hat. The bridgroom is the only son of Mrs Jill Bardwell and the late Mr Anthony Bardwell from Hook in Hampshire. The best man was Mr Gareth Edwards.
The hymns were "Dear Lord and Father of Mankind", "Praise my Soul the King of Heaven" and "Guide me O thy Great Redeemer" with the service being conducted by Reverend James Denniston.
Following the ceremony the bride and groom stopped off at Primrose Cottage for a couple of official photos with Jess their dog, before continuing to the reception in the grounds of the village school. A large marquee had been erected containing a dance floor, chandeliers and fifteen tables - each seating ten guests. The tables had a rugby theme and were named after different teams, with the top table obviously being Bath! The guests were greeted with glasses of Pimms and entertained by a display of photos of the happy couple throughout their childhoods. One favourite with the ladies was a photo of a very tanned 20 year old Ian whilst he was working in New Guinea. The wedding breakfast consisted of gazpacho, a rib of pork or truffle risotto with mustard mash, followed by tarte au citron. The meal concluded with the traditional speeches, in which the groom said that his mother, Gill, had always taught him that good things come to those who wait and, at the age of 42, he had found this to be very true. This brought a tear to the eye of most female guests.
A ceilidh began as the evening guests arrived, with dancers being put through their paces by the caller. During the evening each table was served with a bottle of port whilst a buffet was laid out consisting of cheese, biscuits, pâtés and a very tasty chutney made by the bridegroom.
Mr & Mrs Bardwell will be honeymooning in Vancouver and the Canadian Rockies. The bride is a human resources manager for Unum Provident, Bristol and the bridegroom is a self-employed land surveyor.

Just married!
Cutting the cake
(photos above courtesy of Niki Willows, to view more click on icon:
)


NICKY JEFFS & MIKE TAPPERN
Congratulations to Nicky Jeffs and Mike Tappern of Malt House Cottages, who were married at 12 noon on Friday 14th July. The marriages ceremony was held in St Illtyd's Church, Llanrhidian in the Gower in Wales.
The church was beautifully decorated with flowers to match the bride's bouquet, which contained cream roses, blue delphiniums and red berries, and the congregation was treated to singing by The Morriston Orpheus choir, who sang making the beautiful sound only a Welsh male voice choir can.
Nicky wore a medieval style full length strapless gown in oyster, decorated with embroidery and dainty jewels, with a cropped-style jacket to match. She wore a beautifully ornate tiara in her hair and pearl jewellery. She was attended by her sister-in-law, Hayley Jeffs, and Hayley's three daughters – Jessica, Casey and Millie. The two older bridesmaids wore knee-length iridescent chocolate coloured dresses whilst the two younger bridesmaids wore full-length cream dresses, made by the bride's mother, Sue. These had underskirts and sashes in the same chocolate colour. They carried bouquets to match bride's. Best man was Andy Tappern, the groom's brother, and the groomsmen were Martin Jeffs, brother of the bride, and Colin Grant.
Following the ceremony the bride and groom travelled to the reception at the King Arthur Hotel in Reynoldston, in the very car that Winston Churchill used for his inspection of the troops on D-Day (a 1936 Rolls Royce 1824). On arrival guests were treated to glasses of vodka cocktails and piña colada in the garden, and entertained by a saxophonist. Mr & Mrs Tappern will honeymoon in Andalucia. Nicky is an accountant for Price, Waterhouse, Cooper and Mike is employed at the University of the West of England in Bristol.

Walking down the aisle Leaving for the reception

With three of the bridesmaids Cutting the cake
HELEN BROUGHAM & SIMON CURTIS
Congratulations, or should it be "cheers", to Helen and Simon - landlady and landlord of "The Jolly Huntsman" - who were married on Saturday 4th February at Chippenham Register Office.
The bride wore a stylish fitted suit in black with grey pinstripes, accessorised with a pink silk scarf and silver jewellery. She carried a bouquet of pink and cream roses, gypsophila and ivy. Her hair was beautifully dressed by villager Claire Jinks with roses to match her bouquet.
Following the ceremony the reception was held at "the Jolly Huntsman" amid family and friends - many from the village. The marvellous selection of canapés were made by Jolly Huntsman chef, Steve Port, as was the wedding cake, which was designed in the shape of a publican's licensing board.
The groom whisked the bride off on honeymoon in a silver limousine
(causing one young lad to exclaim "it's even got a telly inside!")

Helen & Simon

Rosebuds in Helen's hair Floral decoration

The wedding cake
VICTORIA FUSSELL & ANDREW MAUNDER
On Saturday 21st January, Delcia and Andrew Fussell celebrated the wedding of their daughter Victoria to Mr Andrew Maunder at St Michael & All Angels church. The Rev. James Denniston conducted the service and Paul Fortune played the organ.

Victoria wore a full-length white satin, strapless dress that had an embroidered organza overskirt decorated with crystals. The Bride's bouquet included cream roses, gerberas and freesias. The bridesmaids were Fiona Williams and Clare Lemmy who wore chocolate brown satin strapless dresses with embroidered shawls over their shoulders. Their bouquets were made of apricot roses, ferns, red berries and gerberas. The Mother of the Bride wore a pale gold skirt and jacket with matching hat and the most fabulous pair of gold glittery shoes. Best Man was Mr Stuart Rowland and the ushers were the bride's brother, James and also Raj Samarasinhe.
Following the ceremony there was a champagne reception for 77 in the library at Grittleton House accompanied by a string quartet. Dinner was in the Red Dining room. Mr and Mrs Maunder will honeymoon in South Africa. Victoria is a Trade Marketing Manager for Pepsico UK and Andrew works as an Environmental Consultant with AEA Technology.

Andy & Victoria Delcia's shoes (it's a girl thing!)

Bridesmaid's bouquet Both sets of parents
(Photos courtesy of Niki Willows, click on icon to see others:

(To view the official photographs please go to www.philip-edwards.co.uk)


2005
PAUL DUCKETT & AMANDA HUTCHINGS
On Friday 9th December, Robbie & Barbara Duckett celebrated the marriage of their son, Paul, to Miss Amanda Hutchings at East Tytherton Church, having obtained special permission from the Bishop to use the church.
Amanda wore an elegant ivory gown with a bias cut skirt, and a fur stole. She wore a simple tiara in her hair and pearl jewellery, and carried a small bouquet of roses. Paul wore a morning suit with a buttonhole to match the bride's bouquet. They were attended by Amanda's four nephews, dressed as Groom's men and the best man was Mark Hutchings, Amanda's brother.
Following the ceremony a reception was held at Lackham house.

Paul & Amanda coming down the aisle Paul & Amanda
(Photos copyright of & with thanks to Emma Farquhar Photography www.emmafarquharphoto.co.uk)
JOANNE NIELD & JOHN KILLORRAN
On Saturday 6th August

Rich and Sue Nield from The Close invited friends and relatives to the wedding of their eldest daughter, Joanne, to Mr John Killorran. The previous day ladies from the church had arranged flowers in the church whilst the bride and her sisters had arranged pew ends. The church smelt delightful with stocks being used in the arrangements. The wedding was at one o'clock. Jo was dressed in a white halter neck dress with long train and a full-length veil sparkling with crystals. She was attended by four bridesmaids; the bride's sisters Lucy Healey and Charlotte Nield and friends Tamsin Smallman and Ella Sloper. They wore ballerina length dusky purple dresses with matching shoes. Their bouquets in included roses, lavender and rosemary. John was accompanied by his best man Mr Tim Crighton. The couple exchanged handmade rings of white gold. After photos were taken outside the church the wedding party left for a reception at Stanton Manor with a barbeque meal and chocolate fountain for pudding. The bride and groom live in London where Jo works as a stage manager and John is an actor.

John & Joanne with two of the bridesmaids Sue & Niki

Ella and Jo
(Photos courtesy of Niki Willows - to see more click on the icon: )