Community & Clubs
We now have a new style website - if you have saved a link for us and are seeing this information, please cancel the link - enter www.kingtonstmichael.com in your browser's address bar for the new website and then save that as a link.
You should see a website with a white background.
2013
Tor Hill Footpath

In April this year, 2013, work was started on the long awaited footpath alongside Tor Hill. This narrow road with a blind bend has always caused problems for motorists and pedestrians alike. But now it was possible to show how safety issues in this area could be improved, allowing both pedestrians and cyclists a separate route.

In September, having completed Phase One of the footpath, the Parish Council asked the Area Board for financial help to complete it. This required the boarding and laying of a firm surface suitable for all weathers, with the addition of tarmac at either end of the footpath. The tarmac at each end allows the centre part of the path to stabilise and keeps any gravel, etc from falling into the road. The path was then completed pedestrian gates at either end, in the interests of safety, to slow any small persons or bikes from suddenly erupting onto the road system.

The Parish Council is very grateful to Wiltshire Council's Chippenham Area Board for its grant, which enabled the completion of Phase 2 of the footpath.

Since the footpath has been completed it has been well used and compliments have been received from a number of residents. The Chairman of Castle Coombe Parish Council has also been to see what has been achieved, and was complimentary on the quality of the work and the overall cost.

Children, dog walkers, disabled persons and mums with push chairs, etc now have a much safer route to and from the village. The views from the footpath are also attractive and open up the aspect of the village along it.

There is still one more phase that needs completing. This will take the north end of the footpath alongside the front of Magpie Cottage (on land bought by Wiltshire Council for this purpose) to join up completely with the village footpath system, with a more open and visible crossing point.

The Parish Council is currently looking into this, but is awaiting a response from Wiltshire Council before the project can start.

~*~*~*~
2012
BBC Filming for Antiques Roadtrip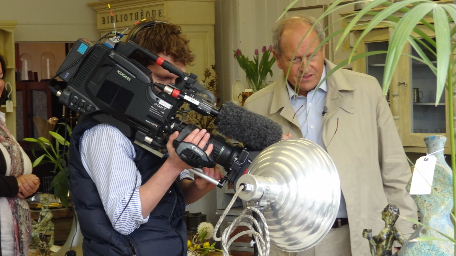 (Photo courtesy of Matt Bridger)
In April the BBC was filming at Kington Antiques for its Antiques Roadtrip show.
~*~*~*~
2011
KSM Recreation Field becomes a QEII Field
The Parish Council has approved a Deed of Dedication for the recreation field to become a QEII Field. The Queen Elizabeth II Fields Challenge, headed by its Patron The Duke of Cambridge and operated by Fields in Trust, is a programme to protect 2012 outdoor recreational spaces in communities all across the country as a permanent living legacy of landmark occasions such as The Queen's Diamond Jubilee in 2012.
This means that the field will be forever protected as a recreation facility. The benefits are that it will:
Make a recognizable commitment to local people to safeguard land, facilities and opportunities for sport, play and outdoor recreation both now and forever.
Protect public access to outdoor space, provide reassurance to potential investors [grant giving bodies] regarding viability and sustainability.
Ensure that, in the case of sale, proceeds are reapplied to replacement facilities, with a priority on new outdoor facilities.
For further information please see www.qe2fields.com.

~*~*~*~
Recreation field tidy-up
A recent tidy-up session by Parish Councillors cleared a large trailer of rubbish and debris from the recreation field and stream, including three car seats, carpet, MDF, chicken wire and a metal drum. The missing bench has now been found and replaced in its original position.
~*~*~*~*~


Royal Wedding Celebrations in KSM

Patriotic flag waving in The Close Celebrations in full swing at The Ham
To celebrate the Royal Wedding at least two street parties were held in the village, with friends and neighbours gathering at The Close and The Ham.

~*~*~*~
2010
100th Birthday Celebrations

Peggy Tayler (left, with Sheila Sealy) celebrates her 100th birthday on 29th June, 2010
Farmer's wife Peggy Tayler, who joined Kington St Michael WI in 1938, celebrated her 100th birthday on June 29th. Peggy, a keen gardener, enjoyed many WI activities, including whist, flower arranging and theatre trips and cooked the turkey for the senior citizens Christmas meal each year. Peggy has a mention in the WI Reminiscences Book; apparently a mystery outing had been arranged, but the coach went without Peggy and all the refreshments. A hasty 'phone call from Badminton brought her and the supper to the rendezvous - good job they didn't go far! A tea party marked her special day with family and friends at Bluebell Lodge Care Home. A birthday card, made by a WI member, was signed by all the members, which amazed Peggy, and a flower arrangement, including honeysuckle from her garden was admired. The Queen's card was proudly shown; she said "It was lovely to have a card from the Queen, but I do not feel old, you have to keep moving and you are lucky if you have good health". Peggy's son Brian still farms in the village; she has five grandchildren and three great grandchildren.
Peggy Tayler 1910-2012
~*~*~*~*~
George Horatio Sealy Memorial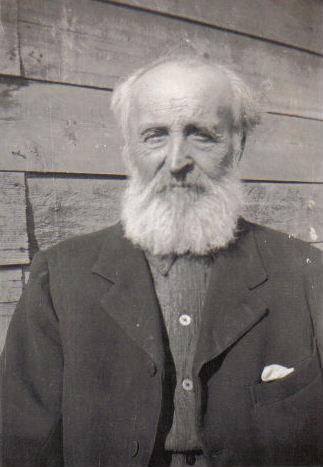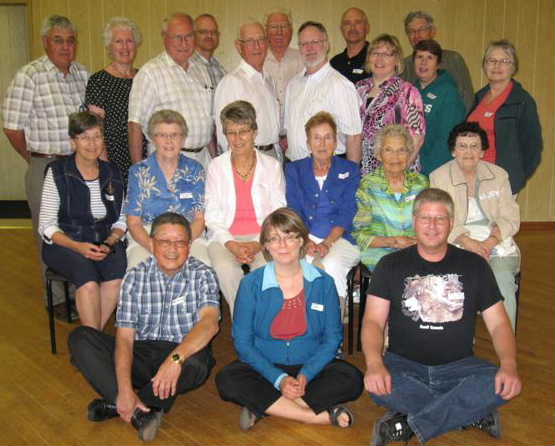 George Horatio Sealy The group attending the dedication on 12th July, 2010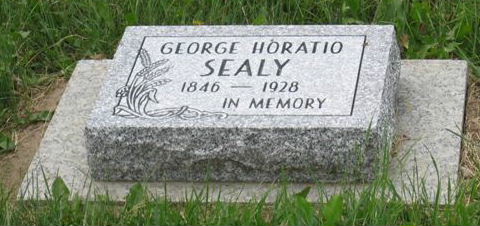 The memorial stone
George Horatio Sealy was born 1846, in Kington St Michael to William and Elizabeth Sealy and together with his wife Annie, raised their family in the village. In 1904-06 the family emigrated to Canada to start a new life there, homesteading in the southern part of Saskatchewan. Today, many Sealy families and their descendents live throughout Canada.
On July 12th 2010, twenty-one of his descendants met at the Macrorie Cemetery, Saskatchewan, Canada, to honour him and dedicate the grave marker that had been installed at his resting place. These descendants had travelled from Alberta, Saskatchewan, and Manitoba, some to meet for the very first time, others to renew acquaintances from times past. Present in the party was Betty Goodwin, granddaughter and oldest living descendant of George Horatio Sealy.
Introductions were made in the Macrorie Rink, followed by a ceremony of prayers, hymns and Bible readings. Lunch, provided by the village ladies, came next and with it an opportunity to view the displays which Ted and Barb Sealy had made featuring the family tree, many photos of both ancestors and descendants and the picturesque village of Kington St Michael. It is hoped that many will visit Wiltshire in the future to experience for themselves.
Unlike the days preceding and following the event, the gathering was blessed with perfect weather, if a little windy, to make their way to the cemetery where a marble stone had been installed. Once again this provided an opportunity for people to reminisce, and contemplate the lives of those early settlers to the area, and give thanks that indeed they did settle there. (With thanks to Ted and Barb Sealy).
~*~*~*~*~
2009
Christmas Fayre
Visitors to the Christmas fayre were surprised to see a film crew in the village hall, who were there to film the judging of the sloe gin competition for a programme with Oz Clark and Hugh Dennis and is called Oz and Hugh Drink to Christmas. The programme's subject is Christmas drinks past and present (see how many familiar faces you can spot!). Click here to see it on YouTube!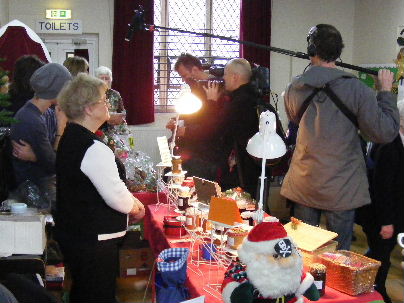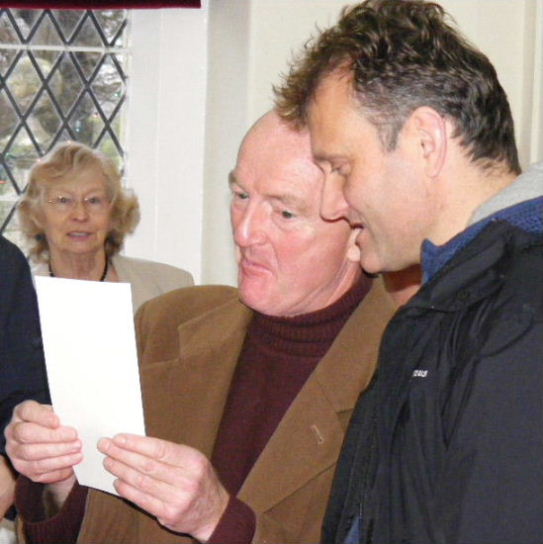 The film crew in action and Oz Clark & Hugh Dennis check the judging criteria for the sloe gin competition.
The fayre was busy, with children visiting Father Christmas in his grotto and enjoying buying from stalls and sampling refreshments. The winner of the sloe gin competition was Ralph Whittaker, who was presented with a trophy and certificate at the carol singing in the evening and will join the judging panel at next year's competition. Ralph's sloe gin was awarded an average 17/20 and was judged to be clear, smooth, sweet and well balanced with an extended flavour. Second was Louise Grant and third ws Oz Clark (or rather a member of his production team!).
~*~*~*~*~

The Duchess of Cornwall visits Kington St Michael
The Duchess of Cornwall, Patron of Community First (recently amalgamated with Youth Action Wiltshire), visited Kington St Michael Village Hall on 11th May 2009. Her Royal Highness learned about the charity's activities and met local residents and members of community groups who use the hall. She was presented with a bouquet by Doyle, who attends Acorns pre-school. Her Royal Highness also toured the village shop before leaving to a farewell from local schoolchildren and villagers. ( Click here to see a report on the This Is Wiltshire website.)

HRH meets local schoolchildren. Milk from the shop for the occasion or has someone elevated Kay's status?!!
(Photos courtesy of Matt Bridger)

Local children waiting to wave off the Duchess of Cornwall.
(Photos courtesy of Sue & John Wilcock)

~*~*~*~*~
2008
End of an Era
After decades of almost continuous service, sadly Kington St Michael Post Office is no more. Despite its recent resurrection in 2004, following a year without it, our post office was an unlucky victim of the recent round of closures.
The Community Shop currently sells a range of stamps and is hoping to be able to provide a Postal Point in the future, which will provide a daily collection for packets and parcels that are too large to fit into the postboxes. Registered and recorded delivery facilities would also be provided. News will be on the website once more is known.
Our last sub-Postmaster, Howard Greenman, would like to wish the community shop every success for the future.

2007
VILLAGE SHOP BECOMES COMMUNITY OWNED
The village shop in Kington St Michael has become a community shop, owned by the community and staffed, initially, by volunteers from the village and beyond.
The handover took place on Saturday 28th April and the shop has been spring cleaned and completely rearranged, with new stock coming in over the next couple of weeks. It is also hoped to stock more local products and crafts. Currently the shop offers a good range of food, confectionery and household goods at reasonable prices, a good number of which are lower than those in local supermarkets for identical goods.
The shop is being run as an Industrial & Provident Society (registration number 30226R), with shares available to buy at £5 each and will be known as "Kington St Michael Village Shop Ltd". Each shareholder will be entitled to one vote.
~*~*~*~*~
KSM ENVIRONMENT AWARENESS DAY
This event was held on Saturday, 3rd March, and turned out to be a great day.
The object was to get people thinking about the environment, the dangers of climate change and the steps we ought to be taking to minimise the danger – especially for the younger generations who will bear the brunt of the problems.
Alex Lockton, Chairman of 'CAVE' (Chippenham and Villages Environmentalists) gave a number of talks on the dangers and ways to address them. The first step for everyone is to improve the insulation of your home.
There were displays by WWF and WCC on Waste Reduction, Recycling and Composting, Real Nappies, car-sharing, Wind-turbines, Photo-voltaic generation (electricity from sun-light) and Sustrans encouraging cycling. Local displays included eggs, jam and produce grown in the village, heating controls from Celect Electrical (a village company), a photographic display showing the activities of The School Environment Club and the first public viewing of the Parish Plan.
Probably the most popular event was the Children's Junk Modelling - making things from free junk! This was the ultimate in re-cycling and Angie and John were kept on their toes all day coping with the stream of young customers.
All in all a great day and our village contribution to saving the planet!
2006
Bonfire Night & Fireworks, 4th November.
A crisp clear evening was perfect weather for the bonfire night at the Rec, with the event being well supported by villagers and friends. The firework display was well organised with Catherine wheels and fountains at ground level filling gaps between rockets and huge glittery explosions above everyone's heads. There was a separate 'safe' area for children to twirl their sparklers and a really big bonfire. The "Best Guy" competition was won by Jessica & Rebecca Baker. Hot dogs, toffee apples and sweets were on sale with beer and mulled wine for the grown ups. For the finale there was fire juggling by talented villager, Mike Ferguson. Thank you to everyone who supported this event, which raised £792 for Recreation Field Funds.
2005

ACORNS PRE-SCHOOL EARNS AWARD
Acorns Pre-School has been presented with the "Investors in People" award in November 2005, following a lot of hard work by the staff and committee. Investors in People is the national standard which sets out a good level of practice for training and development of people to achieve business goals(www.investorsinpeople.co.uk). Well done to Acorns.
~*~*~*~*~
WELCOME LOTTERY AWARD BOOST FOR KINGTON ST MICHAEL VILLAGE HALL
October 2005: The villagers and wider community of Kington St Michael are today celebrating a successful grant award of £3,000 from the National Lottery's Awards for All programme.
The money will go towards the renovation of the Victorian Village Hall floor, which is now, after many years of good use, in need of some refurbishment.
The hall is widely used by the community and, in particular, Acorns Pre-school, Music & Movement Group, Autumn Club, WI, the local Church, Youth Club, and many others.
Chair of the Village Hall Committee, Jo Palmer, said: "This is fantastic news for our community.
The village hall is at the heart of village activities and offers such a great venue for the young and old alike. We can now look forward to providing a hall that is not only a traditional venue but one which can cater for today's needs. The Committee and village have worked extremely hard to raise funds for the floor renovations and to secure the lottery funding. We are looking forward to spending it!"
~*~*~*~*~
Family Fun Day - 27th August 2005
Despite the overcast sky a good number of villagers turned out for the Fun Day.

One gentleman said that it was a ''real English village afternoon''.

Two heats of "It's A Knockout" took place and the Pet Parade proved popular with some novelty classes including: pet the judge would most like to cuddle up with, most obedient pet and pet with the longest tail, which was won by a snake!

All winners were given a rosette.


The Recreation Field Committee were very pleased with the turn out - one of the aims of the afternoon was to get people up to the Rec to see what has been done and to look at the future plans.

The plans were on display for the next proposed phase of Recreation Ground development that includes levelling the football pitch.

The Fun Day raised around £290 to go towards this.
~*~*~*~*~
60th Anniversary of VE Day Celebration - Sunday 8th May '05
Thank you to everyone who supported this event and made it the resounding success it was. Almost 100 people came along - some bringing memorabilia, some wearing period costume. Everone enjoyed the afternoon - listening to music of the era, swapping stories and consuming copious quantities of tea and cakes! The WWII Quiz was won by Andrea Baynes, who received a bottle of wine. An amazing £252.85 was raised, divided equally between The Royal British Legion and Acorns Pre-school, which organised the event. On behalf of Acorns, Linda Durno would like to thank everyone who kindly loaned their memorabilia, donated cakes or raffle prizes and/or supported the event.

Looking at memorabilia Enjoying tea & cakes
~*~*~*~*~
VILLAGE CLOCK: Those of you with good memories will recall that there used to be a clock in the window of the Old Village Hall (facing onto the road, next to the telephone kiosk). This had been bought to commemorate the coronation of Queen Elizabeth II, but sadly it wore out and was irrepairable.
However, due to popular demand, the Village Hall Management Committee has bought a new clock and it has been put up in its rightful place.
~*~*~*~*~*~*~
Metal Detecting Rally by Tim Storer

On Sunday the 16th January I organised the second metal detecting rally on the outskirts of the village.

People from UK Detector Net (an online metal detecting forum) came from all over the country including a mini bus full from Plymouth who set off at 4 am!

A link for the forum is: http://www.forumukdetectornet.co.uk/phpBB2

With the sun beginning to shine 47 detectorists set off to various parts of the fields to ferret out the history of the area.

The finds slowly began trickling back to the finds table for identification and recording.

These details have now been passed to Katie Hinds who is the Finds Liaison Officer for Wiltshire.

If required, these will then be recorded under the Portable Antiquities Scheme.

Have a look at www.findsdatabase.org.uk for more details on this scheme.

The finds dated from the Roman period onwards and some had survived 2000 years of being rolled around by the plough surprisingly well.

Unfortunately all the medieval coins had not been so luckily and only small pieces of them were found.

In addition, there were numerous coins from 1700 onwards, buttons, a Roman mount, a barrel key and various buckles dating from 1450 onwards.

The photos at the end show a late medieval fob seal depicting a running dear, a Roman brooch, a jetton, a medieval mount, and a second Roman brooch.

We raised over £600 from entrance fees and miscellaneous sales, of which £100 has been donated to the fund for the new floor in the village hall and £512 was donated to the Red Cross for the Tsunami appeal.

Once again everyone had a good day and they are looking forward to the next one.

As before, I am more than happy to arrange another event to raise money for village charities.

The requirement is that there should be around 30+ acres, a field suitable for parking and that the fields are under stubble or rolled/harrowed after ploughing. (To view a report of the rally held on 10th October 2004 please click on the icon:
)

Items found at the rally