Kington St Michael Bellringers
Kington St Michael Bellringers
The 'new' band of Kington St Michael bellringers started the village church bells ringing regularly again just over a year ago. It had been nearly 25 years since the village had its own band, however Kington St Michael still relies heavily on neighbouring villages to ring for our village weddings, etc. It would be great if we had more volunteers to join us.
We have two experienced village ringers, and two novices, plus numerous experienced volunteers to guide us carefully on our steep learning curve. Needless to say it is not a skill you can pick up in 5 minutes and it was a good few months before anything melodic came from the tower. The villagers have been enormously supportive of our efforts and we have adjusted our times and length of practice in an effort to please as many as we can. Thank you all for your patience and very kind words of support.
Our practice is on a Monday evening from 7pm to 8pm. We have now progressed from simple rounds to Call Changes, Plain Hunt and Bob Doubles. The new language does become clearer as you progress!
One small technicality or peculiarity of St Michael and All Angels Church is that the bells here are rung anti-clockwise; most other churches are clockwise. It makes no difference to the sound of the bells of course, however when we have gone for extra practice at other churches it takes a few minutes to remember!
I think I can safely say we are all thoroughly enjoying the challenge of the new experience, and the very warm welcome we have had to the bell ringing world.
If any villagers would like to join us please do contact either Diane or Sheila on the numbers below.
Diane Allen (novice) – 07768 053116
Sheila Wills (experienced) – 01249 758189
NEWS:
2014

February: We have now been persuaded to write a 500 word article for Tower of the Year competing with 11 other branches in the Gloucester and Bristol Diocesan Association of Church Bell Ringers. Please click here to read our article, complete with photos.
2013

The bell ringers were delighted to receive The Most Improved Tower of the year for 2013 for this Diocese. There is a significant sized bell trophy now proudly sitting in the corner of the tower.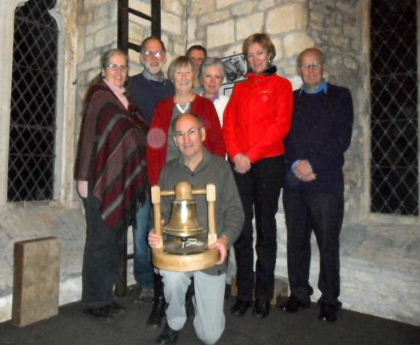 The core group of four now ring before the Sunday service on the first Monday of the month. On Monday evenings, you may also have heard some newcomers recently joined. Apologies if for a few months the bells begin to sound a little less than melodic at times. It will improve as time goes on. Any more newcomers are more than welcome to join. Monday evening 7pm; please call Diane on 07768 053116.