Acorns Pre-school

ACORNS PRE-SCHOOL
"Learning through play"
in Kington St Michael since 1972
The Village Hall, Kington St Michael, Chippenham, Wiltshire, SN14 6HX
Registered Charity no. 1025907

For full details of Acorns Pre-school please visit its official website:
Find us on Facebook as: Acorns Pre-school Kington St Michael
registered for Sessional Day Care - awarded a Good in 2009's inspection.
(Click on the Ofsted logo to view Acorns information and reports held with Ofsted)
Acorns Pre-school is held in Kington St Michael village hall for children age 2-5 years old. We are open as follows:
Monday: 9.15am - 1.15pm

Tuesday: Woodpecker Outdoor Adventures, which take place in the Old Rectory wild garden in the village.
Woodpeckers runs from 9.30am – noon, all year round during term time. The children have a snack of fruit and a hot chocolate drink. Amongst other things, the children search for animal burrows and footprints, go pond dipping, make crafts from natural items and sometimes do some basic cooking.

Wednesday, Thursday and Friday: 9.15am - 11.45am and 11.45am - 2.45pm to include lunch or for all day

Acorns opens at 9am, giving a 15 minute drop off slot to allow parents to settle their child, speak to staff and leave for a prompt 9.15am session start.
For further details contact Lee Churchill on 07932 185973 or via e-mail: manager@acornspreschool.org
We accept most nursery childcare vouchers.
Pre-school Manager: Lee Churchill
Pre-school Deputy: Andrea Jaggard
Pre-school assistants: Helen Clayton & Natasha Robinson
Acorns is delighted to be forging links with Kington St Michael CE Primary School; please click here to visit the school's own website. (Please note that children attending the pre-school are not automatically guaranteed places at the primary school).

If you would like your child to attend Acorns please contact Lee Churchill on 07932 185973 or e-mail manager@acornspreschool.org
"Mighty oaks from little acorns grow"
The current committee is as follows:
Chairman: Gail Hosey
Treasurer: Tim Pritchard
Secretary: Hannah Ridsdale
Vice Chair: Jo Metcalfe
Fundraising Officer: Tamara Eggleston
Newsletter Editor: Candida Feversham
Village Hall Rep: Emma Tyler
General Member: Catherine Padget
Honorary President: Linda Durno
LINKS: Pre-school Learning Alliance
ACORNS - OUT & ABOUT
Acorns would like to thank Mr & Mrs G Chicco of Kington Manor and Mr & Mrs M Cullinane of The Old Rectory, for kindly allowing the pre-school to use their grounds for outdoor play experience. Thanks also to Liz Allen who has kindly allowed Acorns to use a patch of her allotment.
ACORNS WEBSHOP
We now have a permanent fundraiser via the internet, where you can do your shopping on-line at no extra cost to yourself, but with commission going to Acorns' funds. Please take a look at: www.buy.at/ksmacorns. There are over 80 retailers to choose from, with many of them well-known High Street names and Acorns receives a percentage of any money spent. You will be directed to the retailer's own main site so the prices are the same!
PLAYDOUGH RECIPE
Due to popular request we have made our playdough recipe available - please click here.



Term Dates

1st September - 17th October
This Term's Topic
All About Me
DATES FOR YOUR DIARY
tba
~*~*~*~
Dropping Off & Collecting Children
Would parents/carers please park courteously when arriving at and leaving Acorns? There have been problems with delivery vehicles and milk tankers being unable to get through and there is also concern that someone may be hurt in the chaos caused by thoughtless parking.
Toys from home
Whilst we do not mind children bringing in small toys from home (no "aggressive" toys please – toy guns, swords, etc) staff are not able to be responsible for them and do not have time to search for any missing items at the end of the session. If you are concerned about your child losing a toy, may we politely suggest that it would be better to leave it at home.
To view the latest copy of The Acorn newsletter please click here.
Items for sale - please click here to see what's currently on offer.
Mail Folders

Each child has a named mail folder where you will find newsletters, information etc.
Please collect your mail at the end of each session.
Rota Mums/Dads/Carers
Please click here for September/October's rota
Would parent helpers please remember that they need to be at Acorns for 9am promptly to help set-up. If you are unable to do your duty please try to swap with another parent or 'phone one of the bank mums. If you or your child is sick on the morning of your duty and you are unable to come in, again please try to swap or contact a bank mum. If all else fails please contact Kay on her mobile, which is switched on from 8 o'clock every morning (on Thursdays please contact Alison). If we do not have enough helpers this affects our ratios and we may not be able to open for the session.
NEWS:

2014
July: Acorns would like to thank everyone who donated Sainsbury's Active Kids vouchers and especially those who helped at the "final push". This enabled the purchase of a kettle for the Woodpecker sessions, 24 beanbags, a cooling tray, measuring spoons, a book of games/activates suitable for all children, blindfolds, monster trax feet, six relay batons and orienteering flags.
May: Acorns has received £50 from the Book & DVD Scheme, which will go towards the purchase of a new wooden playhouse.
April: FUNDRAISING UPDATE: Bag2schools - We raised £105.50 with our recent Bag2schools fundraiser. A big thank you to everyone who had a clear out and donated unwanted clothes.
Thank you to Music and Movement for its contribution of £60 towards the upkeep of the outside toys and equipment, which it uses when it meets on a Tuesday morning.
March:
Thank you to everyone who supported the progressive supper - we think you'll agree that it was a resounding success.
The total amount raised was £1,400.78, which will be shared between Acorns Pre-school and the village shop.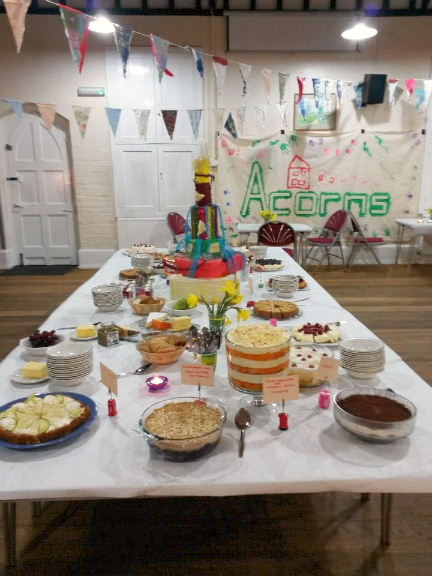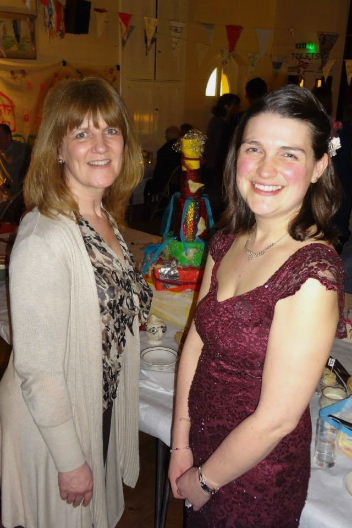 The delicious puddings (left). Hilary (KSM Shop manager) and Yvonne (AScorns Pre-school chairman), who organised
the event for the shop and Acorns Pre-school .
February: A Tale of Two Sheds - February has seen the arrival of two new sheds for Acorns, one at our Woodpeckers site which has been paid for through Wiltshire Council funding and the one at the Village Hall to replace the old metal shed which was no longer fit for purpose. We have only been able to replace this building through fund raising which is a vital part of the survival of the preschool and we would like to say a huge thank you to everyone who has contributed in the past.
January: Thank you for your support of our fundraisers, which have raised £48 from the photograph orders, £25.50 from our stall at the Christmas Fayre, £80 from the sale of the Nativity DVDs and £53 from the Nativity raffle.
2013
September: Thanks to those who collected the Sainsbury's Active Kids vouchers, the following have been obtained: a set of six hedgehog stepping stones, four numbered tail balls, two catchloops, a set of tennis balls, four Nobbly Wobblies, a balance cushion and a foam ring target set. Acorns is now collecting the Morrison's Let's Grow vouchers. The sale of tea towels featuring the children's handprints raised £90 for funds.
August: Acorns are collecting the Nestle Box tops for Books tokens. Please remember to cut them out and bring them in - there will be a collection box for you to put them in; we have a year to save up as many tokens as we can. Happy collecting.
May: Acorns would like to thank everyone who supported its recent successful fun day, which raised just over £500 for funds.
February: Acorns' collection box, situated in The Jolly Huntsman, was emptied recently and raised £14.88 for funds. Thanks go to Helen & Simon Curtis for displaying our collection box.
January: Welcome to Anna and mum Katie, Edward and mum Melanie and George and mum Katherine.
Acorns Pre-school is a registered charity and we rely on fundraising to enable us to buy new equipment. If you would like to make a donation to Acorns' funds, please make a cheque payable to "Acorns Pre-school" and send it to:
Linda Durno (Honorary President), 14 The Close, Kington St Michael, SN14 6LE. Thank you.